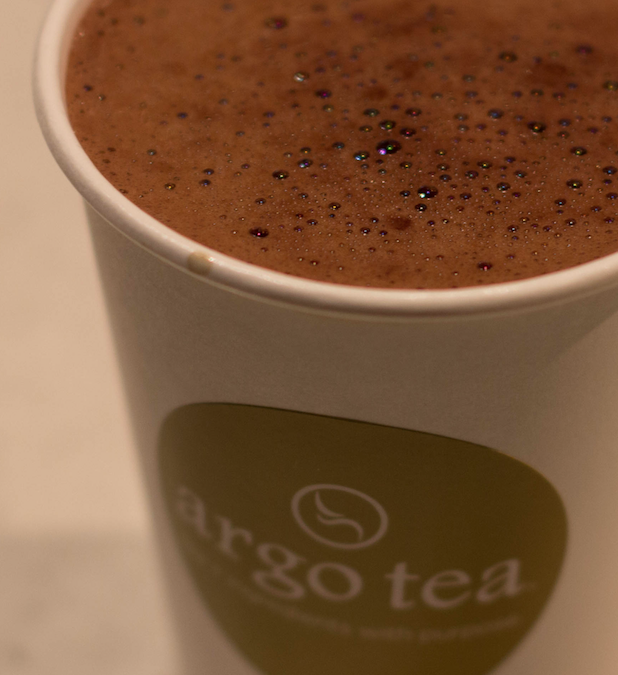 Seasonal Favorite 'Pumpkin Chai' Returns and Fans Can Get a Free 12oz Cup on Saturday, Oct. 1
Chicago, Ill. – (Sept. 19, 2016) – Argo Tea®, the Chicago-based premium tea brand known for its all-natural tea-based signature drinks and premium loose-leaf teas, today announced its newest café menu offering, the Cocoa Mate shot.
Originating from the yerba mate plant, Argo Tea's Cocoa Mate shot offers an all-natural energy shot on-the-go. Available both hot and iced, the shot embodies a sweet, bold flavor, fusing the vitamins and minerals of Brazilian Mate with cocoa and sweet almond flavors. Argo Tea froths the beverage with rich cocoa powder and finishes with a touch of pure cane sugar to enhance the drink's natural sweetness.
Also, making a return to Argo Tea's menu this fall is the café's popular Pumpkin Chai. The caffeine-free seasonal favorite combines sweet and spicy rooibos chai with the smooth flavor of pumpkin. To commemorate its return, Argo Tea is offering guests a free small (12 oz.) Pumpkin Chai on Saturday, Oct. 1 from opening until noon at participating Argo Tea cafés.
"As the days grow shorter this fall, Argo Tea is offering guests a new way to start their mornings—with all-natural energy available on-the-go," said Kari Ginal, Vice President of Marketing, Argo Tea. "We're confident that the Cocoa Mate will become a crowd favorite, much like our signature Pumpkin Chai."
Argo Tea proudly sources the best ingredients from around the world, including handpicked, loose-leaf teas, to create a variety of innovative signature beverages that blend a perfect balance of smart nutrition and craveable taste.
The Cocoa Mate shot is the latest innovation from Argo Tea's new rotating Mixology Special which previously featured the Matcha Shot. The new offering is now available in participating Argo Tea cafés in one 8 oz. size ($2.95, 40 calories) The Pumpkin Chai is available in three sizes: 12 oz. ($3.95, 155 calories), 16 oz. ($4.95, 210 calories) and 20 oz. ($5.45, 265 calories).
About Argo Tea
Since brewing its first cup of tea in 2003, Argo Tea has quickly become a household name and leading multi-channel, branded beverage company. Its ready-to-drink teas in Argo Tea's iconic bottles are now available in over 30,000 outlets nationwide through partnerships with premier retailers that value its brand-defining commitment to quality, sustainability and healthy living. With nearly 50 Argo Tea cafés globally, it has established a brand building marketing platform that serves over 10 million cups of tea annually fueling its innovation. Argo Tea's menu includes all natural-tea based signature drinks, over thirty varieties of loose-leaf teas, premium coffee, fresh-baked pastries, specialty foods, and a selection of tea ware and accessories.
For more information, please visit www.argotea.com and follow the brand on Facebook at https://www.facebook.com/argotea as well as Twitter and Instagram @argotea
# # #