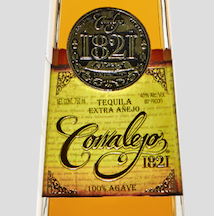 3,000 Bottles Now Available in the U.S.
Aliso Viejo, California (September 15, 2017) – In honor of National Hispanic Heritage Month, Tequila Corralejo® has released 1,000 cases of 1821 Extra Añejo (1821) in the U.S. The limited-edition expression, imported by Infinium Spirits, is the latest offering from the award-winning line of premium tequila expressions.
1821 represents Mexico's rich history and hard-fought sovereignty led by Don Miguel Hidalgo y Costilla, a noble priest born at Hacienda Corralejo. He's renowned for launching the Mexican War of Independence in 1810 in revolt against the injustices of a tyrannical Spanish government against Mexico's poor. Although Spanish rule was officially abolished on August 24, 1821, Hidalgo is memorialized as the Father of his Country and Mexican independence.
As with all of the brand's expressions (silver, reposado, añejo),1821 was produced with only the finest 100% Blue Weber Agave tequila at Hacienda Corralejo in Guanajuato, Mexico. Corralejo employs the 400-year-old Charentais method of distillation, the same method perfected by the French in distilling cognac, which is what sets Corralejo apart from other tequilas. The agave is slow cooked in stone clay ovens for 27 hours, then rested for 12 hours before going to the mill to be double distilled in copper pot stills. A fine selection of small American oak barrels provides roasted hints that add to the tequila's excellent flavor. 1821 was aged for 36 months to yield a tequila with impeccably smooth flavor.
A beloved brand in its home country of Mexico, Corralejo is also the number three selling ultra-premium tequila brand in the U.S., according to AC Nielsen[1], appealing to both acculturated and unacculturated Hispanics. As one of the few tequilas produced in Guanajuato, Mexico, Corralejo's deep roots and production methods are unique in the tequila industry, dating back to 1755, when Hacienda Corralejo became the first estate in Mexico to produce tequila as a commercial venture.
Managing Director Don Leonardo Rodríguez Moreno, a 25-year industry veteran, is key to maintaining the artistry and craftsmanship for which Corralejo has become known.
"Corralejo 1821 is liquid gold and reflects our commitment to quality and tradition," said Moreno. "We are the only tequila using the Charentais distillation method commonly associated with cognac production and have used the same time-honored recipe for 23 years."
1821 is now available in the U.S. in 750ml bottles for the suggested retail price of $129.99, which may vary by market. A remarkably complex tequila, at 80-proof and 40% alcohol by volume, 1821 is meant to be sipped and savored.
Appearance: amber tones with copper hints
Nose: sweet cooked agave undertones, accented by spicy notes, such as cinnamon, pepper and clove. Smoky half notes brought out by a fine roasting process, elicit woody and herbal notes combined with fruity aromas such as coffee, walnut, apple and green pineapple
Taste: a perfect smoky and woody flavor balance featuring walnut, vanilla, almond and cooked agave notes. The aftertaste denotes fine citrus and herbal strands along with soft, floral chocolate and spicy notes including cinnamon and pepper
Hacienda Corralejo
The distillery is located on the grounds of Hacienda Corralejo, the birthplace of Don Miguel Hidalgo y Costilla, about 70 miles outside of Guanajuato, Mexico. Tequila Corralejo is one of a handful of tequila companies granted the right to produce tequila outside of Jalisco. The sleek premium 1821 bottles, produced at a glass factory also owned by Moreno, a few miles away from the distillery, are sold in an artfully designed golden box.
For more information, please visit http://tequilacorralejo.mx/
About Infinium Spirits
Infinium Spirits is a family-owned spirits company known for igniting brands and accelerating performance. Founded in 2005 and based in Aliso Viejo, California, Infinium Spirits specializes in the import, sales, and marketing of its distinctive portfolio of brands.
# # #
[1] AC Nielsen, Total US XAOC, EQ 9L Volume, 52 weeks ending 7/15/17