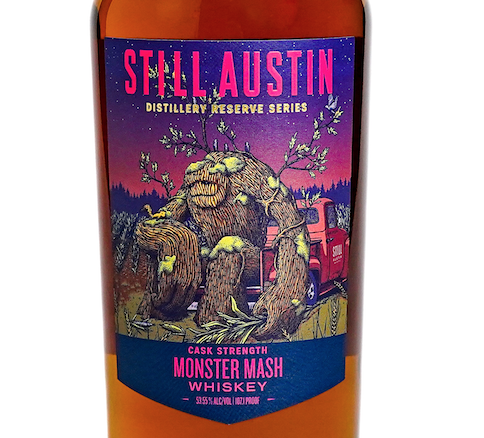 Second Expression in the company's "Distillery Reserve Series" Available for Purchase on October 31 Beginning at Noon
Austin, TX (October 21, 2020) – Still Austin Whiskey Co., a homegrown distillery situated in the heart of South Austin, will release a limited-edition Monster Mash cask strength single barrel whiskey under its special "Distillery Reserve Series" just in time for the Halloween holiday.
The new expression features grains that are 100% grown by Texas farmers. The whiskey was handmade from grain-to-glass at the distillery, aged for 26 months in new charred American Oak barrels,and bottled at 106.53 proof (53% ABV). The (monster) mash bill contains 63% Non-GMO white corn, 17% Winter Hawk wheat, 10% malted rye, 8% rye and 2% malted barley.
The genesis of this whiskey started when the team discovered five "super sacks" in the distillery which were all less than half full. Lead Distiller John Schrepel decided to see what happened when he combined each of the remaining grains found in each sack. The result turned out even better than he could have imagined.
"At Still Austin, we don't take ourselves too seriously and creating the Monster Mash expression was a whimsical way to celebrate Halloween," said Schrepel. "Because this is such a limited-edition offering, we encourage folks to come to the distillery right at noon when we open on Halloween to purchase their bottle."
When & Where to Buy
The team only produced two single barrels of Monster Mash – about (500) 750ml bottles – which retail for $100 each. Bottles can only be purchased via the distillery's Tasting Room beginning on Saturday, October 31 at 12:00pm. Those who purchase a bottle will receive a complimentary, limited-edition 12×16 poster of the Monster Mash label, signed by Austin-based artist Dan Grissom of "Biscuit Press."There will also be a special Halloween surprise for those who come dressed in costume.
Monster Mash Tasting Notes
Nose: apricot, allspice, creamy maple pecan, roasted nuts, candy corn, date palm
Palate: Reese's peanut butter cups, almond butter, MilkyWay candy bar, Chocolate covered cherries, toasted marshmallow, amaretto, pecan praline, Werther's original vanilla creme soft caramel hard candies
Finish: nutty, toasted marshmallow, Cadbury cream egg
Online Contest
Additionally, the team is running an online contest which gives one lucky participant a chance to win a trip for (2) to Texas (specifically Austin, Dallas, Houston or San Antonio), and includes hotel (two nights), transportation and a $150 per diem for meals and incidentals. In order to qualify, folks must post a picture of themselves dressed in a Halloween costume to the Still Austin Facebook @StillATX or Instagram page @Still_ATX and use the hashtag #MonsterMashTrip. Still Austin will select and post five finalists to its social pages on November 5, and then allow its social community to vote on the grand prizewinner until 11:59pm CST that day. Limit one vote per person. The winner will be announced on November 6, 2020. Visit www.stillaustin.com for full contest rules.
Grain-to-Glass Philosophy
Still Austin is an independent craft whiskey distillery founded in 2015, focusing on a true grain-to-glass concept that produces the highest quality whiskey by perfecting every part of the process and using local resources and sustainable practices. The team is committed to carrying out each part of the process in-house. That means never sourcing whiskey from another distillery, and instead always hand-making everything from scratch, and managing everything in-house – milling, mashing, fermenting, distilling, barreling and bottling.
The distilling team is led by Head Distiller John Schrepel, Master Blender Nancy Fraley and veteran Master Distiller Mike Delevante, one of the most experienced and respected distillers in North America who designed the Still Austin distillery to make the highest quality of bourbon. That includes a 42-foot custom-made column, "Nancy," (and her sister copper-pot still, "The Queen") which give the distillers serious creative license to create unique new flavors and spirits.The team also uses Texas weather to its advantage. The region's high heat, humidity and rapidly shifting temperatures encourage spirits to move rapidly in and out of the oak barrels and mature relatively quickly—but, if this process is left unchecked, it can also cause the bourbon to have heavy oak flavor or harsh tannic qualities. To prevent this, Still Austin uses a meticulous six-month slow water reduction technique focused on flavor and balance, which gives the alcohol a softness on the palate and brings more "mature" notes, like vanilla and caramel, to the forefront. For more information, visit www.stillaustin.com
About Still Austin Whiskey Co.
Founded in 2015 by three Austin families, Still Austin Whiskey Co. is a true grain-to-glass Distillery, located at 440 East St. Elmo Roadin the heart of Austin, Texas. All spirits are hand crafted using grains grown by Texas farmers. Still Austin's collection of spirits includes Still Austin's flagship Straight Bourbon Whiskey, High-Rye Bourbon Whiskey, and Still Rye Gin. Still Austin places a high value on sustainability, with a focus on cutting carbon emissions through local sourcing, increasing the biodiversity of the region through heritage grains, returning spent grains to local ranchers to feed their animals, and operating a distillery that is designed for energy efficiency and water conservation.