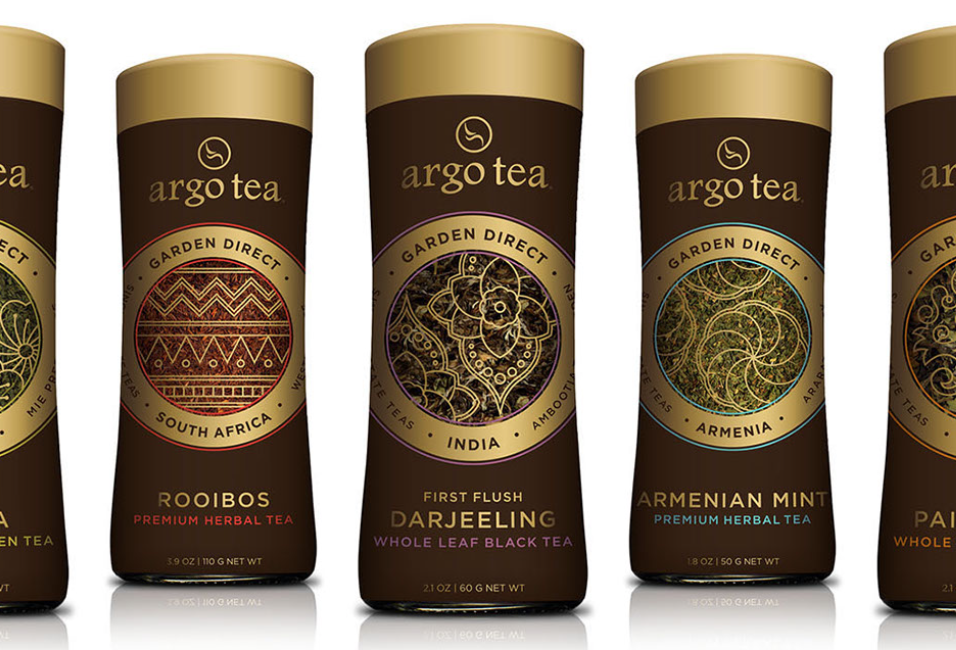 Premium Loose-Leaf Teas Sourced From the World's Premier Tea Growing Regions Now Available in Cafés and Online
Chicago, Ill. – (Dec. 14, 2016) – Argo Tea®, the premium tea brand known for its all-natural tea-based signature drinks and loose-leaf teas, today introduced its most premium offering: the Garden Direct Collection. The new line features 24 single estate teas that are sourced from the world's premier tea growing regions. Each reflects the character and subtleties of the unique terroir and climate from the garden in which it was grown.
With a variety of flavors and levels of caffeine, ranging from popular pure teas like First Flush Darjeeling (Ambootia Tea Garden, India) to undiscovered teas like Hong Cha (Fang District, Thailand) or Sejak (Jeju Island, South Korea), the range of the collection provides unique offerings for all types of tea enthusiasts. All Garden Direct varietals are available for purchase online at www.argotea.com and in the majority of Argo Tea's Chicago and New York City area cafés. The following eight Garden Direct teas, which exemplify the diversity within the collection, are available in the rest of Argo Tea cafés nationwide:
English Breakfast – Everything you could want in an English Breakfast tea and more: full-bodied, subtle malt and a hint of smoke
Genmaicha – Stunningly beautiful, this Japanese favorite is the perfect balance of fresh vegetal Sencha and nutty undertones from the toasted rice
Nilgiri – Sweet notes of honey and dried fruit give this tea wonderful balance, complemented by its lush amber cup
Sencha – Lightly steamed to preserve the character of the leaves, this tea typifies the light grassy flavor you'd expect from the best senchas
Pai Mu Tan – Picked from the tiniest buds in early Spring, this white tea presents delicate fruit and floral notes that will delight the palate
Armenian Mint – Delicious and refreshing, Armenian Mint tea revitalizes the mind, body and soul, naturally without caffeine
Chamomile Blossoms – Grown in the Nile Delta at low altitude, this classic herbal tea exhibits a light, floral sweetness that is perfectly balanced by earthy undertones
Rooibos – Grown only in South Africa, this flavorful and full-bodied tea is caffeine-free and has strong notes of honey and fruit
This innovative collection was made possible because of the solid, long-standing relationships among Argo Tea and the various tea growers in each region.
"We literally traveled to all ends of the earth to source the best single estate teas for our Garden Direct Collection," said Arsen Avakian, founder and CEO, Argo Tea. "Our partners not only make some of the best teas but also share in our commitment to making an impact on their communities. We're proud to work with these world-renowned growers and are passionate about sharing these exceptional pure teas with enthusiasts everywhere."
The collection's rich gold and brown labels reflect the premium quality of each tea within the Collection. Each bottle features a design inspired by regional art, flowers and iconic patterns of the specific country where the tea was grown. The suggested retail price for each loose-leaf bottle varies from $10.95 to $39.95.
About Argo Tea
Since brewing its first cup of tea in 2003, Argo Tea has quickly become a household name and leading multi-channel, branded beverage company. Its ready-to-drink teas in Argo Tea's iconic bottles are now available in over 30,000 outlets nationwide through partnerships with premier retailers that value its brand-defining commitment to quality, sustainability and healthy living. With nearly 50 Argo Tea cafés globally, it has established a brand building marketing platform that serves over 10 million cups of tea annually fueling its innovation. Argo Tea's menu includes all natural-tea based signature drinks, over thirty varieties of loose-leaf teas, premium coffee, fresh-baked pastries, specialty foods, and a selection of tea ware and accessories.
For more information, please visit www.argotea.com and follow the brand on Facebook at https://www.facebook.com/argotea as well as Twitter and Instagram @argotea
# # #