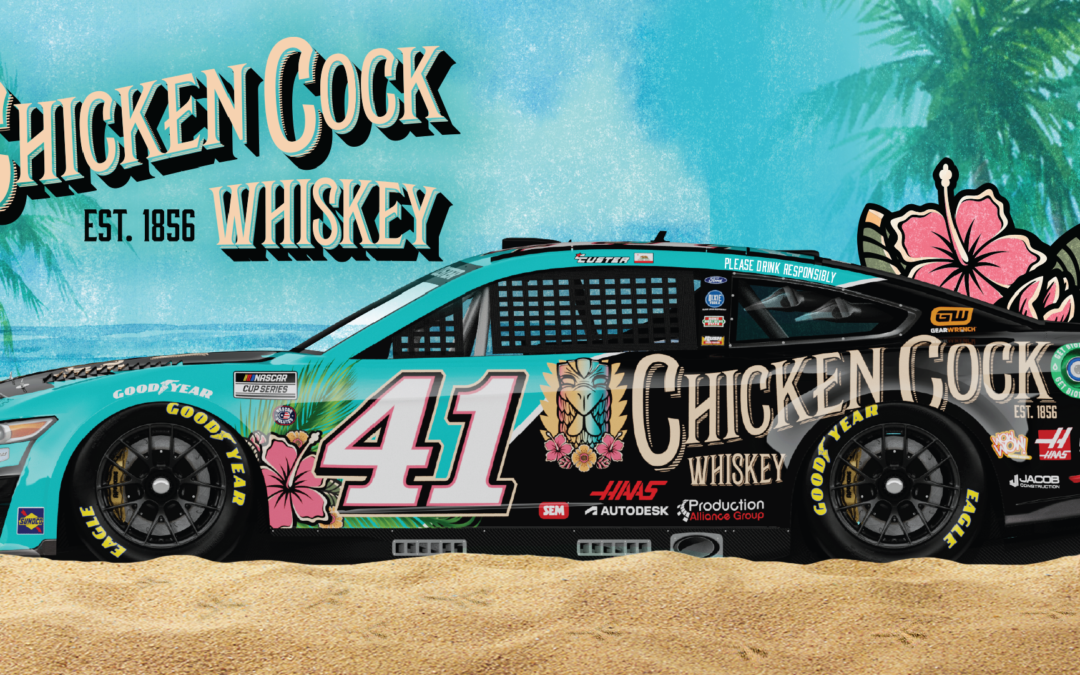 "The Famous Old Brand" Toasts New Partnership and the Launch of its Limited-Edition Island Rooster Rum Barrel Rye
BARDSTOWN, Ky. (May 25, 2022) – Chicken Cock Whiskey, the famous old brand since 1856, is kicking the "Summer of the Rooster" into high gear on May 29 during the NASCAR Cup Series race at Charlotte (N.C.) Motor Speedway. The partnership marks Chicken Cock's NASCAR debut alongside driver Cole Custer and the No. 41 Ford Mustang for Stewart-Haas Racing.
The No. 41 car will be emblazoned with Chicken Cock's "Summer of the Rooster"  inspired branding to reinforce the recent limited-edition release of Island Rooster Rum finished Rye Whiskey. Launched earlier this month, and inspired by a trip to the Caribbean, where roosters announce the coming day, the new expression starts with Chicken Cock's Kentucky Straight Rye Whiskey and is finished in Caribbean rum casks for at least six months. Island Rooster was bottled at 95 proof (47.5% ABV) in an apothecary-style embossed bottle featuring a premium metal cup cap – perfect for pouring while outside this summer.
"We're thrilled to introduce the Chicken Cock brand and our latest Island Rooster limited-edition whiskey to NASCAR fans at the Charlotte race over Memorial Day weekend. It's the unofficial kickoff of summer," said Matti Anttila, founder of Grain & Barrel Spirits, which owns Chicken Cock. "This summer, Chicken Cock is taking traditional indoor whiskey drinking occasions outside and we can't think of a more exciting way to showcase this bold, confident, and expressive take on our iconic Chicken Cock rooster."
Custer added, "I can't think of a better way to kick off the 'Summer of the Rooster' than to showcase the storied history and rich tradition of Chicken Cock Whiskey this weekend at Charlotte Motor Speedway."
About Chicken Cock Whiskey
Originally established in Paris, Kentucky in 1856, Chicken Cock – known as "The Famous Old Brand" – was forced to move production up to Canada during Prohibition. The Canadian Rye whiskey produced during that period was then smuggled back into the U.S. in tin cans, earning the brand the nickname, "the whiskey in a tin can." After Prohibition, Chicken Cock enjoyed a resurgent couple of decades before a distillery fire just after World War II put it out of business. In 2012, Anttila rediscovered the brand and set out to resurrect it to its Prohibition-era glory alongside Master Distiller Gregg Snyder. Since that time, the team has introduced a flagship KY Straight Bourbon and KY Straight Rye Whiskey, made in partnership with Bardstown Bourbon Company as part of its collaborative distilling program, along with several other highly sought after limited-releases, including the new Island Rooster Rum Barrel Rye, starts with Chicken Cock's Kentucky Straight Rye Whiskey and is finished in Caribbean rum casks for at least six months.
About Grain & Barrel Spirits
Based in Charleston, South Carolina, Grain & Barrel Spirits develops and scales craft spirits that connect the best artisans to consumers worldwide. One of the company's core brands is Dixie Vodka, the leading premium homegrown vodka produced in the Southeast and the Official Vodka of NASCAR; one of the fastest-growing craft brands in the United States, Dixie won the prestigious 2019 and 2020 and 2021 "Rising Star" Growth Brands Awards from Beverage Dynamics magazine. Other brands in the Grain & Barrel portfolio include Virgil Kane Lowcountry Whiskey; High Goal Luxury Gin, a small batch, ultra-premium gin produced in Charleston; and Elvis Whiskeys, a duo of Elvis Presley-inspired whiskeys. Grain & Barrel has been named to the prestigious Inc. 5000 list of the fastest-growing privately held companies in America three years in a row and is a proud member of 1% For The Planet.
About Stewart Haas Racing
Stewart-Haas Racing is the title-winning NASCAR team co-owned by three-time NASCAR Cup Series champion Tony Stewart and Gene Haas, founder of Haas Automation – the largest CNC machine tool builder in North America. The Kannapolis, North Carolina-based organization has won two NASCAR Cup Series titles, one NASCAR Xfinity Series championship and more than 90 NASCAR races, including such crown-jewel events as the Daytona 500, Brickyard 400 and Southern 500.
For more information, please visit us online at StewartHaasRacing.com and on social at Facebook, Twitter, Instagram, TikTok, YouTube and LinkedIn.
# # #