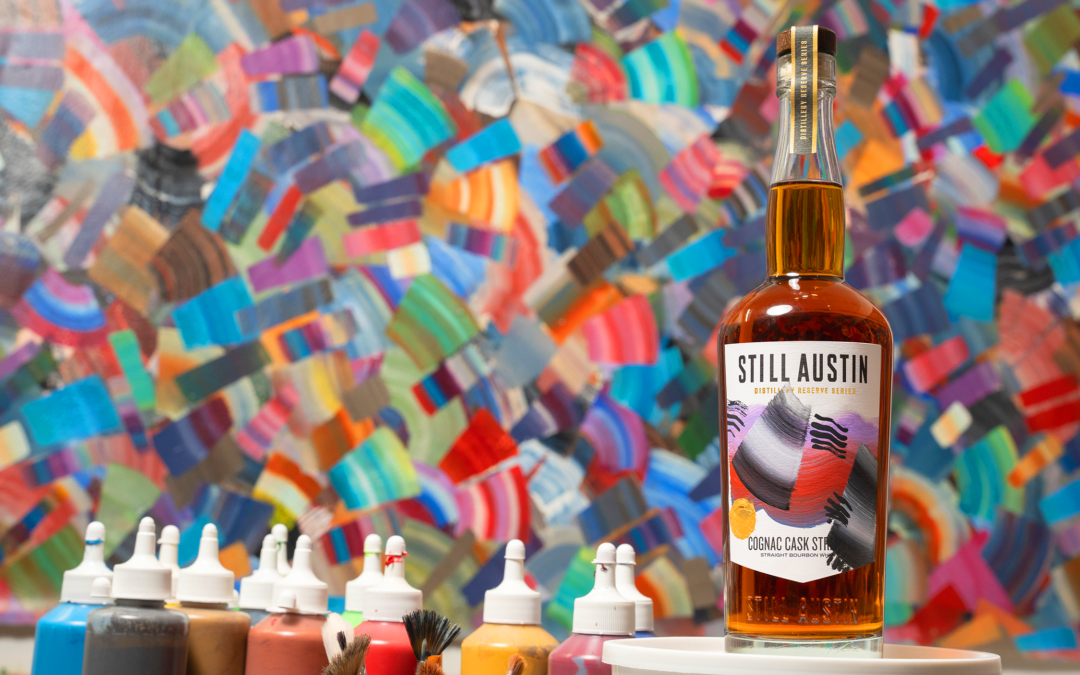 Distillery Reserve Series Holiday Offering Available Via StillAustin.com Beginning Monday, December 5 at 1:00pm CST
Austin, TX (November 30, 2022) – Still Austin Whiskey Co., a homegrown distillery in the heart of South Austin, will introduce its latest Distillery Reserve Series offering—a straight bourbon whiskey finished in cognac casks— beginning Monday, December 5 at 1:00pm CST via the Still Austin website, www.stillaustin.com. The bourbon is distilled from 100% Texas grains with a mash bill of 70% white corn, 25% rye and 5% malted barley, aged for more than two years in new charred American Oak barrels, finished in French cognac barrels for 17 months, and bottled at 108 proof (54% ABV). This limited-edition spirit opens on the nose with intimations of marzipan, candied pear, molasses and fig and delivers tastes of dried apricots and cranberries, lemongrass, almonds and cassia spice, with lingering afternotes of dried lemon peel, black currants and ginger powder.
As part of these annual holiday releases, Still Austin partners with a local Texas artist to create the art for the bottle label. For this year's release, the award-winning grain-to-glass distillery turned to Austin-based up-and-coming abstract muralist Kel Brown. A rising star in the local art scene, Brown has been making his mark on the outdoor walls of Austin as well as in the city's art galleries. A former artist-in-residence at Pine Street Station, he has collaborated with the SXSW music festival, the City of Austin, and the George Washington Carver Museum. Each label for this sumptuous whiskey has been individually hand-painted as Brown allowed the spirit to inspire his innate sense of color and form.
How to Purchase
Consumers will have the chance to purchase a 750ml bottle beginning Monday, December 5 at 1:00pm CST by visiting StillAustin.com. The price is $120 per bottle plus tax, which will be sold on a first come, first served basis. Limit one per customer. Patrons can pick up their bottles at the Still Austin distillery (440 E. St Elmo Road Unit F) on Friday, December 9, beginning at 12pm. Bottles must be picked up at the distillery and cannot be shipped.
Grain-to-Glass Philosophy
Still Austin is an independent craft whiskey distillery founded in 2015, focusing on a true grain-to-glass concept that produces the highest quality whiskey by perfecting every part of the process and using local resources and sustainable practices. The team is committed to carrying out each part of the process in-house. That means never sourcing whiskey from another distillery, and instead always hand-making everything from scratch, and managing everything in-house – milling, mashing, fermenting, distilling, barreling and bottling.
The Still Austin distilling team is led by Head Distiller John Schrepel, Master Blender Nancy Fraley and veteran Master Distiller Mike Delevante, one of the most experienced and respected distillers in North America who designed the distillery to make the highest quality whiskey. That includes a 42-foot custom-made column, "Nancy," (and her sister copper-pot still, "The Queen") which give the distillers serious creative license to create unique new flavors and spirits. For more information, visit www.stillaustin.com
For more information, visit www.stillaustin.com
About Still Austin Whiskey Co.
Founded in 2015 by three Austin families, Still Austin Whiskey Co. is a true grain-to-glass distillery, located at 440 East St. Elmo Road in the heart of Austin, Texas. All spirits are hand crafted using grains grown by Texas farmers. Still Austin's collection of spirits includes the flagship Straight Bourbon Whiskey (aka "The Musician"), Cask Strength Bourbon, Straight Rye Whiskey (aka "The Artist"), and American Gin (aka "The Naturalist"). Still Austin places a high value on sustainability, with a focus on cutting carbon emissions through local sourcing, increasing the biodiversity of the region through heritage grains, returning spent grains to local ranchers to feed their animals, and operating a distillery that is designed for energy efficiency and water conservation.
# # #