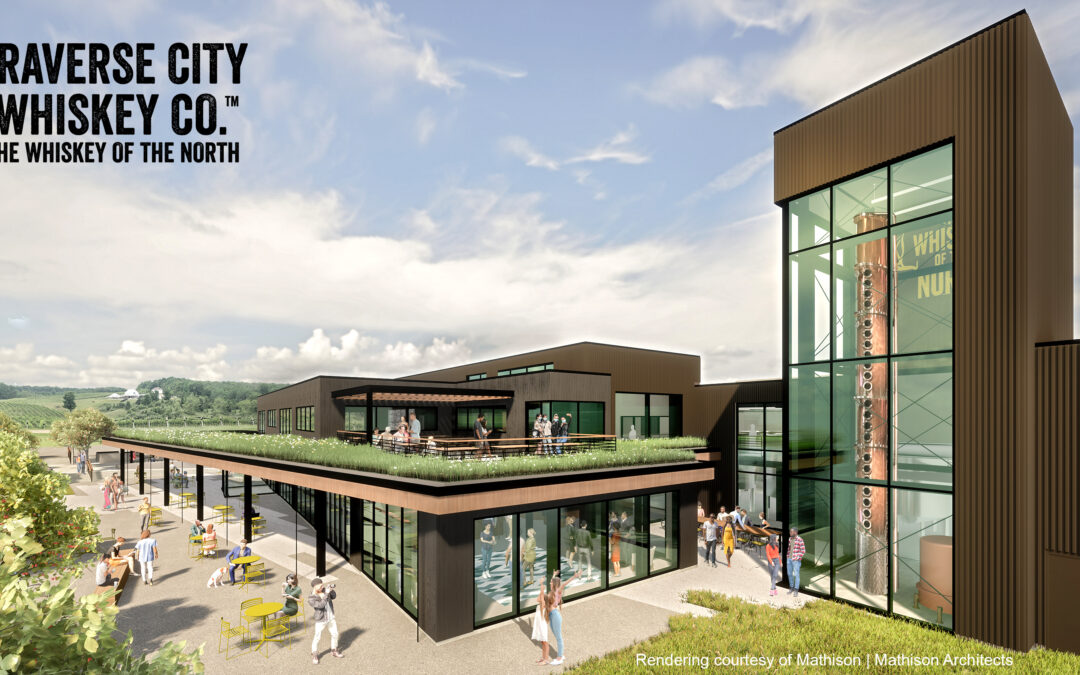 LANSING, Mich. – Today, Governor Gretchen Whitmer joined the Michigan Economic Development Corporation (MEDC) to announce that Traverse City Whiskey Co. LLC, (TCWC), a Traverse City-based distiller of bourbon and whiskey and producer of premium cocktail cherry garnishes, is expanding in Traverse City with support from the Michigan Strategic Fund.
"Today's $20 million investment by Traverse City Whiskey Company will create nearly 100 good-paying jobs and foster long-term economic opportunity in Northern Michigan's agribusiness sector," said Governor Gretchen Whitmer. "Right now, Michigan's economy is growing, and we must build on our momentum by empowering our hardworking people, innovative small businesses, and resilient communities. Our future is bright, and by continuing to work together on bipartisan economic development efforts, we can bring in more investments like this one by TCWC to us move Michigan forward. Cheers, Traverse City!"
"Cheers to the team at TCWC on your growth success! We're pleased to support your expansion in Michigan, and appreciate this vote of confidence in the strength of our talented workforce and attractive business climate," said Quentin L. Messer, Jr., CEO of MEDC and President and Chair of the MSF Board. "Today represents only the beginning of an exciting relationship with TCWC. We are grateful to the Governor, legislators and local officials for their continued support of the Michigan Business Development Program. This project further demonstrates Team Michigan's commitment to supporting economic opportunities throughout all regions of the state. We're proud to join our local partners as we celebrate TCWC's expansion and look forward to working together to grow, add jobs, and provide greater opportunity for our friends and neighbors in Northern Michigan."
The project is expected to generate a total capital investment of approximately $20 million and create nearly 100 jobs, supported by a $750,000 Michigan Business Development Program performance-based grant. Michigan was chosen for the project over a competing site in Michigan City, Indiana.
TCWC began operating in 2012, when it established its first distillery and bottling plant in downtown Traverse City and produced straight bourbon and innovative cherry whiskey that have become top selling craft whiskeys statewide. At its current facility in Traverse City, the company operates the Stillhouse tasting room that has become a popular destination for tens of thousands of area residents and visitors each year. In 2018, TCWC introduced its premium cocktail cherries which have grown to be the leading premium cocktail cherry nationally, sold in all fifty states. In 2019, it opened its first tasting room in Metro Detroit: The Outpost in Ferndale. TCWC currently employs 45 Michigan residents.
The company's rapid growth has exceeded its current distilling capacity, which has resulted in a portion of its annual production to be outsourced to out-of-state partners. TCWC has purchased and has begun to repurpose the abandoned Cherry Growers Co-Op cherry processing facility in Traverse City where it will accommodate every step in the production process and meet increasing demand for its products. The first-of-its-kind facility in Michigan will also allow TCWC to offer support to other craft whiskey distillers that are in need of capacity for their own growing brands. It will also include a state-of-the-art traditional rackhouse, dedicated processing and packaging spaces, administrative offices and a visitor center and tasting room, as well as spectacular indoor and outdoor hospitality spaces.
"We're thrilled to break ground on this incredible new facility and are grateful to the State of Michigan for investing in our future which will allow us to expand operations and exclusively produce our award-winning whiskey right here in our hometown of Traverse City," said Chris Fredrickson, Co-Founder and President, TCWC. Our new headquarters will be an all-encompassing campus that will provide a unique immersion in whiskey culture and industry, and will add a new experience to the thriving Northern Michigan agritourism industry. It will provide numerous jobs and attract new and returning visitors to our beautiful region. We can't wait to welcome our friends into our new home."
The project builds on Michigan's agribusiness industry and will further boost tourism throughout the region. TCWC offers a variety of training opportunities and competitive benefits to its employees and promotes from within whenever possible. In addition, the company works with Michigan Works! to reach local talent in disadvantaged areas.
Elmwood Township has offered a property tax abatement in support of the project, and plans to offer staff time in support of the project.
"Elmwood Township is excited that TC Whiskey is revitalizing the former Cherry Growers operations," said Elmwood Township Supervisor Jeffrey K. Shaw, DC. "The property has been vacant and decaying, and the TC Whiskey project will provide economic opportunity for workers in our area."
"Michigan's craft beverage industry is on the grow. Businesses like Traverse City Distillery directly contribute to economic development and jobs creation with our local communities while creating markets for our farmers," said Jenelle Jagmin, executive director, Michigan Craft Beverage Council. "I appreciate the ongoing support and investment from Governor Whitmer, MEDC and other partners into the state's robust craft beverage industry."