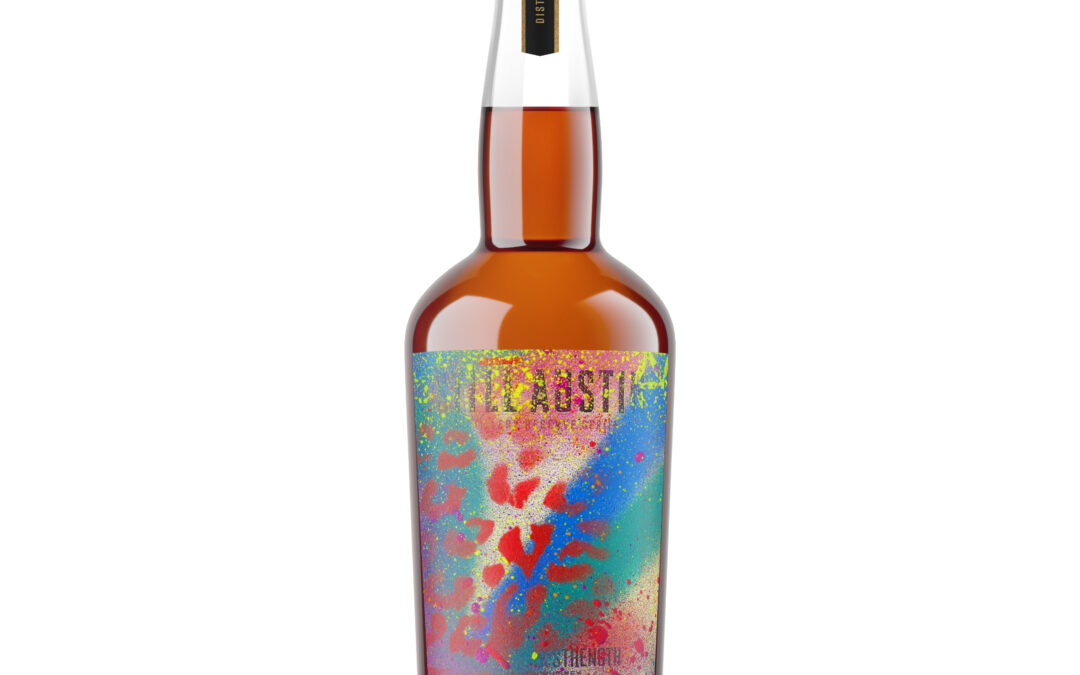 100% Rye Whiskey Finished in French Cognac Barrels Available for Purchase on Monday, December 6 at 12:00pm
Austin, TX (November 30, 2021) – Still Austin Whiskey Co., a homegrown distillery situated in the heart of South Austin, will launch its latest "Distillery Reserve Series" expression on Monday, December 6 beginning at 12:00pm: a 100% Rye Whiskey finished in French Cognac barrels.
The rye whiskey was handmade from grain-to-glass at the distillery, aged for 33 months in new charred American Oak barrels, finished for six months in French Cognac barrels and bottled at 108.6 proof (54.3% ABV). Featuring grains grown by Texas farmers, the whiskey opens with aromas of pear, vanilla, orange peel, honey, and fig, followed by hints of butterscotch, honeycomb, and white grape. The creamy and nutty palate offers up notes of whipped cream and apricot jam, alongside rye spice and further echoes of French butter pears. The silky taste tapers off with an easy, round finish and lingering impressions of sugar cookies.
For the label, the team paired the distiller's art with the work of Zuzu Perkal, an Austin-based visual artist and muralist. Zuzu is a self-taught contemporary visual artist and muralist committed to the exploration, experimentation and unconventionality of blurring the lines between fine and street art. She spray painted every individual bottle by hand, allowing her dynamic vision to echo the spirit inside.
"This Distillery Reserve Series release combines two of our most exciting ventures: our 100% Texas rye whiskey and French cognac cask finishing," said John Schrepel, Head Distiller. "The aging process resulted in a smooth and complex spirit with a fruit-forward nose layered with hints of spice that's perfect for the holidays."
When & Where to Buy
Whiskey lovers will have the chance to purchase a 750ml bottle by visiting StillAustin.com on Monday, December 6, beginning at 12:00pm. Bottles will be sold on a first come, first served basis for $120 plus tax. All bottles must be picked up at the Still Austin distillery (440 E. St Elmo Road Unit F) beginning on Friday, December 10 at 12:00pm.
Grain-to-Glass Philosophy
Still Austin is an independent craft whiskey distillery founded in 2015, focusing on a true grain-to-glass concept that produces the highest quality whiskey by perfecting every part of the process and using local resources and sustainable practices. The team is committed to carrying out each part of the process in-house. That means never sourcing whiskey from another distillery, and instead always hand-making everything from scratch, and managing everything in-house – milling, mashing, fermenting, distilling, barreling and bottling.
The distilling team is led by Head Distiller John Schrepel, Master Blender Nancy Fraley and veteran Master Distiller Mike Delevante, one of the most experienced and respected distillers in North America who designed the Still Austin distillery to make the highest quality of bourbon. That includes a 42-foot custom-made column, "Nancy," (and her sister copper-pot still, "The Queen") which give the distillers serious creative license to create unique new flavors and spirits. The team also uses Texas weather to its advantage. The region's high heat, humidity and rapidly shifting temperatures encourage spirits to move rapidly in and out of the oak barrels and mature relatively quickly—but, if this process is left unchecked, it can also cause the bourbon to have heavy oak flavor or harsh tannic qualities. To prevent this, Still Austin uses a meticulous six-month slow water reduction technique focused on flavor and balance, which gives the alcohol a softness on the palate and brings more "mature" notes, like vanilla and caramel, to the forefront.
For more information, please visit www.stillaustin.com
About Still Austin Whiskey Co.
Founded in 2015 by three Austin families, Still Austin Whiskey Co. is a true grain-to-glass Distillery, located at 440 East St. Elmo Road in the heart of Austin, Texas. All spirits are hand crafted using grains grown by Texas farmers. Still Austin's collection of spirits includes Still Austin's flagship Straight Bourbon Whiskey, High-Rye Bourbon Whiskey, and Still Rye Gin. Still Austin places a high value on sustainability, with a focus on cutting carbon emissions through local sourcing, increasing the biodiversity of the region through heritage grains, returning spent grains to local ranchers to feed their animals, and operating a distillery that is designed for energy efficiency and water conservation. 
About the Artist
With the coalescence of unrestrained imagination, vigorous dedication, and inevitable trial and error, Zuzu Perkal has cultivated a distinct style and process. By pursuing multiple style disciplines, all of her work exemplifies dynamic movements, vibrant colors, and contemporary design, which lay the foundation for an engaged and energetic viewer. Zuzu graduated from one of the nation's top rated Advertising Portfolio Programs at the University of Texas at Austin in 2010. After years of working at various creative agencies and organizations, she became a full-time visual artist and muralist. Zuzu is on the Board of Directors for the HOPE Campaign, a nonprofit 501(c3) supporting visual artists and musicians through community programming and projects.
# # #