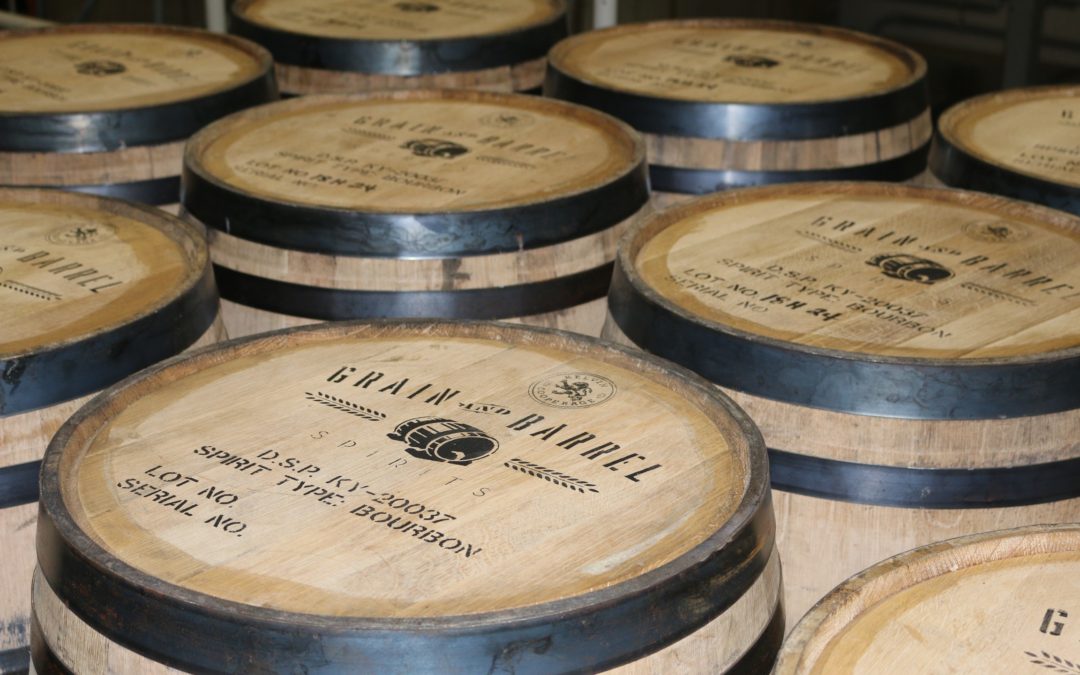 Charleston, SC (October 10, 2018) – Grain & Barrel Spirits ("G&B"), an innovation-driven craft spirits company, brought Chicken Cock Whiskey back to its rightful place as a heritage-driven American Whiskey in 2012, when CEO Matti Anttila discovered the "Famous Old Brand." Since that time, G&B has fully returned the brand to its ancestral home in Kentucky and continues its quest to resurrect the historic pre-prohibition favorite with the introduction of a limited-edition release of 10-Year-Old Double Barrel Bourbon.
Originally established in 1856, in Paris, Kentucky, (ten years before Jack Daniels), Chicken Cock rose to fame as the house whiskey at the Cotton Club, one of the most legendary speakeasies, during Prohibition. Known as "The Famous Old Brand" and "The Whiskey in a Tin Can," Chicken Cock was smuggled in sealed tin cans and ceremoniously opened tableside. After prohibition ended, the brand enjoyed a resurgent couple of decades before a distillery fire put it out of business for more than 40 years.
The brand's latest limited-edition release arrives just in time for the holiday season. Chicken Cock 10-Year-Old Double Barrel Bourbonis the brand's most unique and special limited release yet. Master Distiller and 40+ year veteran Gregg Snyder selected twelve barrels of 10-year-old bourbon, marrying two barrels at a time to create a perfectly balanced, extremely smooth, small batch bourbon (only 1,980 bottles were produced). Through countless samplings, he determined the "perfect proof" at 104-proof, with a slight amount of pure water to open up the flavors, and non-chill filtered to retain the rich amber colors and exquisite taste profile. Featuring the Pre-prohibition Era Style Bottle with sipping glass cap and a Mash Bill of 70% corn, 21% rye and 9% malted barley, the coveted expression was distilled in Lawrenceburg, Indiana, and aged and bottled in Owensboro, Kentucky.
Chicken Cock Whiskey is now being produced at the Bardstown Bourbon Company(BBCo) in the bourbon capital of the world. Through BBCo's collaborative distilling program, G&B's Gregg Snyder will collaborate with Bourbon Hall of FameMaster Distiller Steve Nally and BBCo's first-class distilling team, to produce its high-quality, small-batch whiskey, bourbon, and rye for many years to come. BBCo and G&B concluded their first distillation of 616 barrels at the end of August.
"From the day I discovered Chicken Cock Whiskey, my goal was to eventually return the brand to its ancestral home," said Matti Anttila, CEO of Grain & Barrel Spirits. "The historic brand is now officially 100% back home in Kentucky, a mere 80 miles from Paris, where its story began 162 years ago. The legend of Chicken Cock never died. In fact, we believe that the brand's best years are still ahead of it."
Only 330 cases of the 10-Year-Old Double Barrel Bourbonlimited-edition release will be available beginning this month in select markets including CO, GA, FL, KY, NY, SC and TN, and online at https://chickencock.passionspirits.com/chicken-cock.html. The suggested retail price for a 750ml bottle is $250, which may vary by market.
Tasting Notes: 10-Year-Old Double Barrel Bourbon:
Appearance: Beautiful, Warm Rich Amber Color
Aroma: Robust Sweetness, with distinctive Caramel and Vanilla aromas, nicely complimented with the perfect amount of Oak Lactones.
Taste: Simply stated: "AWESOME", full bodied bourbon at the Perfect 104 Proof that highlights a beautiful balance of Sweet Caramel, Vanilla and Toasted Oak, with a hint of Dark Chocolate.
Finish: Wonderful, long Rich and Flavorful Finish with a lingering of Sweetness
The Chicken Cock whiskey portfolio also includes:
Heritage Reserve (100% Bourbon; 90 proof) – SRP $37.99. Available in select U.S. markets and France. 2016 Craft Competition Gold Medal Winner
Bootlegger's Reserve (60% Bourbon/40% Rye; 90 proof) – SRP $39.99. Available in select U.S. markets and 2016 Craft Competition Gold Medal Winner
160thAnniversary Single Barrel 8-Year-Old Bourbon– SRP $99.99. Distilled in IN, Aged & Bottled in KY (O.Z. Tyler). Awarded Double Gold in the 2017 San Francisco World Spirits Competition
ABOUT GRAIN & BARREL SPIRITS AND CHICKEN COCK WHISKEY
Grain & Barrel Spirits is an innovation-driven craft spirits company headquartered in West Palm Beach, Florida. G&B's core brands include Chicken Cock Whiskey, founded in Paris, Kentucky in 1856 and Charleston, South Carolina-based Dixie Vodka, the leading and most highly awarded homegrown premium vodka in the Southeast. To learn more about Grain & Barrel Spirits and Chicken Cock whiskey, please visit http://www.grainandbarrel.com and http://www.chickencockwhiskey.com
"Like" Chicken Cock on Facebook and follow the brand on Instagram and Twitter
#chickencockwhiskey, #chickencock, #est1856
# # #