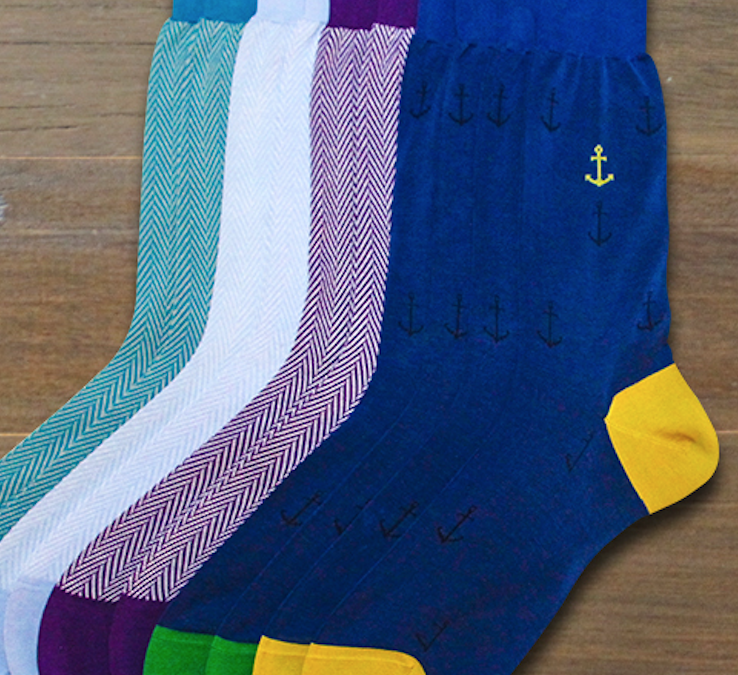 Chicago (November 17, 2016) – Just in time for the holidays, Nick'Socks, the Chicago-based luxury men's sock brand designed for the modern businessman, has expanded its selection from three styles to twelve, including five "no shows" – the ideal size for a stocking stuffer.
Custom made in Italy using 100 percent Egyptian Mako cotton spun from extra-long staple fibers, which produce the highest quality thread, Nick'Socks offers distinct conversation-starting styles in multiple color combinations, ranging from vibrant and bold to subtle and sophisticated, which allow men to express their personalities through fashion.
The new "no shows," which retail exclusively online for $19.99, feature decorative designs including horses, giraffes, chevrons in various colors and combinations. Each style is named for a person who has impacted the life of founder and CEO, Nick Bruce, including mentors, family members and friends.
Ideal for year round wear, the "no show" styles feature four rows of reinforced anti-slip rubber backing along the heel of the socks, so men don't have to worry about losing their socks inside their shoes. Designed with precision and luxury in mind, Nick'Socks are not only fashionable, but also comfortable, breathable and durable, and appropriate in both professional and personal settings.
"Socks are a subtle way for men to make an individualized statement and showcase their strength and confidence," said Bruce. "I designed the collection to be not only stylish, but also comfortable and functional, so men can wear these socks on their way to work with slacks or to a ball game in jeans."
In addition to the "no shows," Nick'Socks added one knee length and three ankle length styles, featuring designs like stripes and polka dots. The nine new styles join the original three: "Tradizionale," or herringbone, "Originale," or striped, and "Classico," or anchors, available in purple, blue, red, beige and green.
Nick'Socks ankle and knee length socks retail for $45. The "no shows" retail for $19.99 per pair, $54 for three pairs, $75 for five pairs and $100 for 10 pairs. All sales are currently available online, and include tax and ground shipping. For more information, please visit nicksocks.co.
"Like" Nick'Socks on Facebook: https://www.facebook.com/OnTheGo2015?fref=ts, and follow on Twitter: https://twitter.com/NickSocks and Instagram: https://instagram.com/nicksocksofficial/.
About Nick'Socks
Nick'Socks is the high quality, luxury sock and lifestyle brand that illustrates your personal style. Custom made in Italy using 100% Egyptian Mako cotton, Nick'Socks are available for purchase in three distinct styles online and in select Chicago retail locations. For more information, visit nicksocks.co
Nick Bruce, LLC 2016
###