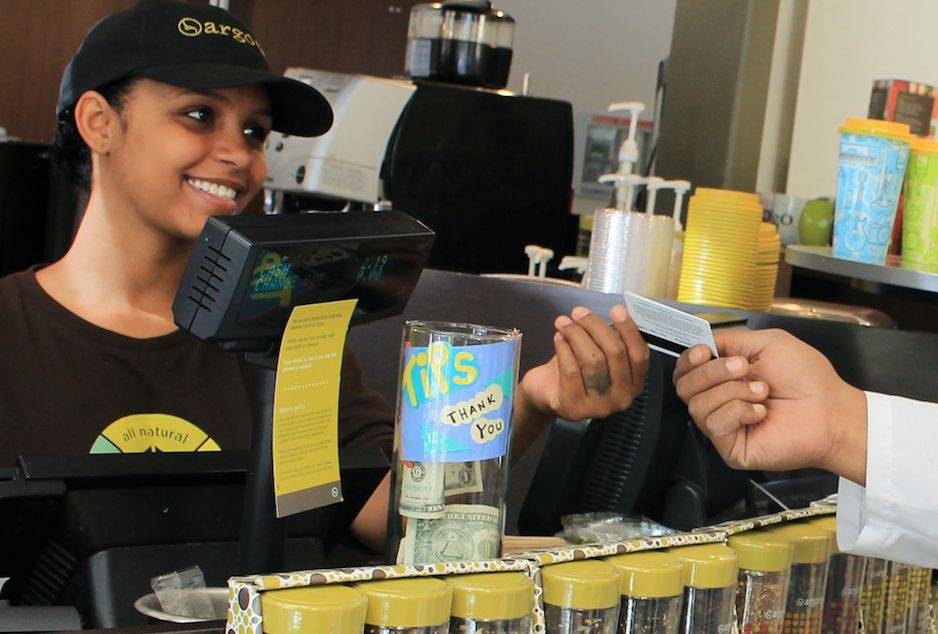 Chicago, Ill. – (April 24, 2017) – Chicago-based Argo Tea®, the largest tea café concept in the U.S., will go cashless in four of the company's locations beginning today. In an attempt to make it easier than ever to order, pay and earn rewards, and to increase its speed of service. the premium tea brand will eliminate cash transactions from select cafes – three in Chicago and one in New York.
Argo Tea's cashless cafés will allow baristas to take orders faster, so customers can avoid lines and receive their favorite custom-made drinks and food in less time. Cashless cafés will accept credit/debit cards and the Argo Tea app, which allows customers to pay with their phone to earn rewards. Customers will receive $5 off their first order when they download the app. For customers who value cash, Argo Tea is working to develop an in-store gift card kiosk that accepts cash.
Chicago Cashless Café locations:
Loop (Franklin & Madison): 1 S. Franklin St., Chicago, IL 60606
University of Illinois at Chicago: 750 S. Halsted Suite 151, Chicago, IL 60607
Merchandise Mart: 222 W. Merchandise Mart Plaza, Chicago, IL 60654
New York Cashless Café location:
Union Square: 75 University Pl, New York, NY 10003
Looking ahead, the brand is also exploring the possibilities of using the cashless concept for the three locations at the Chicago O'Hare International Airport cafés.
About Argo Tea
Since brewing its first cup of tea in 2003, Argo Tea has quickly become a household name and leading multi-channel, branded beverage company. Its ready-to-drink teas in Argo Tea's iconic bottles are now available in over 45,000 outlets nationwide through partnerships with premier retailers that value its brand-defining commitment to quality, sustainability and healthy living. With nearly 50 Argo Tea cafés globally, it has established a brand building marketing platform that serves over 10 million cups of tea annually, fueling its innovation. Argo Tea's menu includes all natural, tea based signature drinks, over 50 varieties of loose-leaf teas, premium coffee, fresh-baked pastries, specialty foods, and a selection of teaware and accessories.
For more information, please visit www.argotea.com and follow the brand on Facebook at https://www.facebook.com/argotea as well as Twitter and Instagram @argotea
# # #