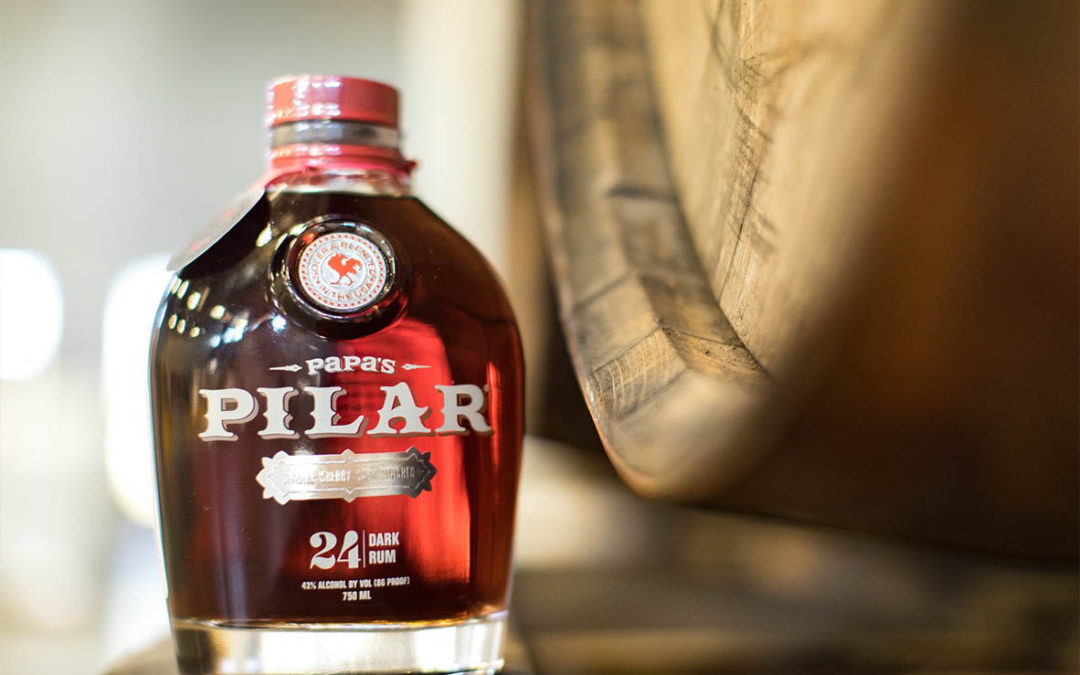 Further Aged in Spanish Oloroso Sherry Casks, 1,400 Cases of Premium Rum Now Available in Select U.S. Markets
Key West, Florida (November 1, 2017) – Hemingway Rum Company, the makers of Papa's Pilar® Dark and Blonde rums, is proud to introduce a limited-release of 1,400 6-pk cases of a special-edition Sherry Finish in select U.S. markets. The award-winning, premium sipping rums, which are inspired by Ernest "Papa" Hemingway's spirit of adventure, are hand-selected from ports-of-call in the Caribbean, Central America and Florida for their age, character and maturity.
The team of Master Blenders created this special edition expression of custom barreled Papa's Pilar Dark, with seven different hand-selected rums up to 25 years old, which are both pot and column distilled. After solera aging in Bourbon barrels, Port Wine casks, and Spanish Sherry casks, the bold and complex rum was further aged in Spanish Oloroso Sherry casks for approximately 30 days, creating a unique flavor profile.
In a quest to get rum back to its roots, the Papa's Pilar Production team chose to embrace a similar methodology used in Scotch Whiskey, with the goal to allow the rum blend to continue to meld together, while also interacting with the Sherry and French Oak. It's also a method used by Cuban rum makers in their best rums, as they cannot easily source used American Bourbon barrels. The team chose to use French Limousin Oak Sherry casks from Jerez de la Frontera, Spain, and only for a short period of time, because the grain structure of French Limousin Oak is wider and more open than American Oak Bourbon barrels (300L vs 200L).
"By building off the strong base flavors found in our dark rum and allowing additional time for the blended rums to meld together, this special release has developed a slight sweetness combined with a uniquely spicy finish, resulting in a smoothness and complexity second to none," said Ron Call, Head of Rum Production. "The 'magic' happens in aging – not between the rum and the fresh oak, but between the rum and the broken-down oak from a process that takes many years to develop."
TASTING NOTES:
Strong base of flavors, such as vanilla, cinnamon, maple, coffee and almond, with hints of Port and Sherry
New layer of slight sweetness, followed by a unique spicy finish, imparted by the French Oak
Very complex rum with a great mouth-feel
Papa's Pilar is meant to rekindle a sense of adventure in us all. "Papa" lived an epic life full of perpetual motion, and Papa's Pilar was crafted to accompany rum enthusiasts as they sink their teeth into life. Named for his muse and one true constant, Pilar is the vessel that allowed America's literary giant to reach beyond the shoreline, feast on life and remind us to never be a spectator.
Every aspect of Papa's Pilar is thoughtful and purposeful. The distinct bottle evokes Papa's exploits through a form factor reminiscent of an iconic WWII canteen. The special-edition expression will hit shelves in the Papa's Pilar signature bottle, featuring a red closure to distinguish the Sherry-finished rum from it Dark and Blonde counterparts.
Papa's Pilar recently opened a new distillery and experience center in Key West, Florida, further honoring Hemingway's contribution to the classic spirit of the city in which he once lived. The over 8,000+ sq. ft. facility supports Papa's Pilar rum production and features an Experience Center, Tasting Room, Trading Post, and eventually, a rentable event center. Visitors can view a 350-gallon Hamilton Pot Still, with a custom-made reflux column, that can produce up to 80 gallons of rum per day.
Papa's Pilar was developed in conjunction with Ernest Hemingway's estate. The Hemingway family donates 100 percent of their royalty profits to organizations that embody the likes of adventure, literacy, and conservation.
The suggested retail price of the Sherry Finish is $44.99 – $46.99, which will vary by market. The special-edition expression is available in 750ml bottles in both on- and off-premise establishments in: California, Florida, Georgia, Illinois, Indiana, Kentucky, Louisiana, Massachusetts, Michigan, New Jersey, New York, Tennessee and Texas.
For more information, please visit www.papaspilar.com "like" us on Facebook http://www.facebook.com/PapasPilarRumand follow us on Instagram https://www.instagram.com/papaspilar/ and Twitter https://twitter.com/papaspilar#PapaWouldBeProud, #NeverASpectator, #PilarPreserves #PapasKeyWest
About Hemingway Rum Company, LLC
Hemingway Rum Company, LLC is a distilled spirits company based in Florida that's dedicated to producing super-premium multi-sourced solera blended artisanal rums. The Company's inaugural offerings are Papa's Pilar® Dark and Blonde rums, incepted and crafted by a seasoned team of best-in-class partners. The Company encourages consumers of legal drinking age to Live Courageously and Drink Responsibly and proudly supports local organizations that serve Ernest Hemingway's adventurous, literary and conservational legacy.