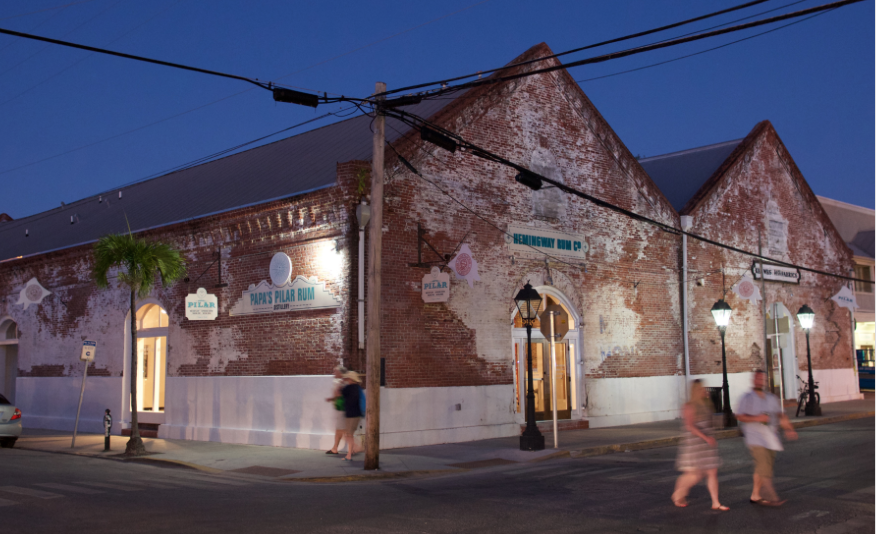 Inspired by Ernest Hemingway's Spirit of Adventure, the Makers of Papa's Pilar® Offer Rum Enthusiasts a New Adventure Destination
Key West, Florida (May 17, 2017) – Hemingway Rum Company, the makers of Papa's Pilar® premium sipping rums, which were inspired by Ernest Hemingway's spirit of adventure, will officially open its Rum Distillery & Experience Center to the public on Saturday, May 20, 2017. The new facility pays homage to the legendary adventurer who once proudly called Key West home.
Nestled in the heart of Key West at 201 Simonton St. (the corner of Greene St. & Simonton St.), the new Rum Distillery & Experience Center once served as an all brick tobacco warehouse built in 1878 by Irish bricklayers. Having completed a three-year renovation, the over 8,000 sq. ft. facility will support Papa's Pilar rum production, an Experience Center, a Tasting Room, Trading Post, and eventually a rentable event center. Visitors can view a 350-gallon Hamilton Pot Still, with a custom-made reflux column, that can produce up to 80 gallons of rum per day. Guests will also be treated to an interactive "scent display," which allows them to smell the active ingredients in each expression. Unique attractions throughout the tour pay tribute to "Papa" as Hemingway was known, including a swivel picture wall and replica of his Pilar boat affixed in the ceiling's center rafters. Following the tour, patrons will be provided a sampling experience of Papa's Pilar dark and blonde rums in the facility's Tasting Room, which includes a Hemingway inspired bar top, filled with newspaper clippings, photographs and other memorabilia.
Carlton "Carl" Grooms, Key West Director of Operations, will manage the production of the award-winning rums, with the help of four full-time managers and 40 part-time employees, whom are all local Key West residents. An adventure-seeker and rum enthusiast himself, Grooms co-founded the International Rum Council and served as co-author of the book, "Rum & Contemporary Cuisine." Carl serves on the Board of the Navy League, Key West Council, and the Key West Art and Historical Society.
"We're excited to have created both a destination that will serve as the physical heart and soul of our brand, as well as an asset for the city of Key West," said Grooms. "Our guests will be truly engaged and amazed with this unique experience. A trip to Key West will no longer be complete without a visit."
Tours are available daily from 9am-6pm. Tours are self-guided and do not require reservations as guests are encouraged to explore like Hemingway himself.
In addition to the tour attractions, guests can visit the Trading Post to purchase adventure gear, bar accessories and one-of-a-kind Hemingway Rum Company apparel only available in Key West. A designated "locals corner" will allow various Key West merchants to showcase and sell their work.
"Of all his worldly travels, Ernest Hemingway chose Key West to call home," said Lindsey Kops Mundy, Papa's Pilar National Brand Director. "And it's here that we chose to celebrate him and Papa's Pilar, the rum inspired by his spirit of adventure."
Papa's Pilar Dark & Blonde rum varieties are hand-selected from ports-of-call in the Caribbean, Central America and Florida for their age, character and maturity, and then blended and solera aged in our proprietary process which includes Bourbon barrels and Spanish Sherry casks for the Blonde expression, and Bourbon, Port Wine and Spanish Sherry casks for the Dark Rum.
In addition to the new Rum Distillery & Experience Center, Papa's Pilar rums are available in 750ml bottles in both on- and off-premise establishments in: Arizona, California, Colorado, Connecticut, Delaware, Florida, Georgia, Illinois, Indiana, Kentucky, Louisiana, Maine, Maryland, Massachusetts, Michigan, Minnesota, Missouri, New Hampshire, New Jersey, New York, Rhode Island, South Carolina, Tennessee, Texas, Washington and Washington, DC. The brand is also registered in Arizona, Hawaii, Idaho, Montana, Nevada, New Mexico, North Carolina, Oregon, Utah and Virginia. The suggested retail price of the Dark and Blonde are $39.99 and $29.99, respectively. Prices may vary by market.
For more information, please visit www.papaspilar.com,"like" us on Facebook http://www.facebook.com/PapasPilarRum, and follow us on Instagram https://www.instagram.com/papaspilar/and Twitter https://twitter.com/papaspilar #PapasKeyWest #PapasPilar #PapasKeyWest
About Hemingway Rum Company, LLC
Hemingway Rum Company, LLC is a distilled spirits company based in Florida that's dedicated to producing super-premium multi-sourced solera blended Caribbean, Central American and Floridian rums. The Company's inaugural offerings are Papa's Pilar® Dark and Blonde Rum, incepted and crafted by a seasoned team of best-in-class partners. The Company encourages consumers of legal drinking age to "Live Courageously and Drink Responsibly" and proudly supports local organizations that serve Ernest Hemingway's adventurous, literary and conservational legacy.
Papa's Pilar® is a proud member of the Distilled Spirits Council of the United States (DISCUS).
# # #