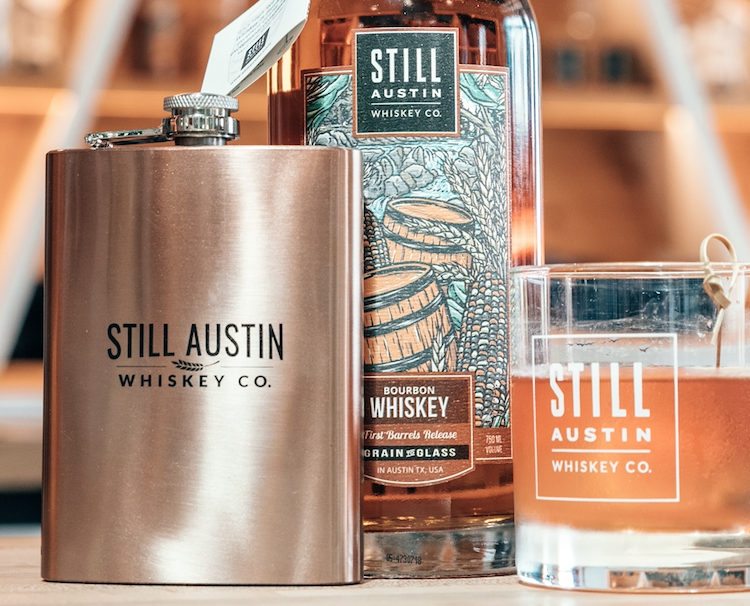 Limited-Release Expression Made Using Local Resources and Sustainable Practices Now Available Throughout the State of Texas
Austin, TX (October 20, 2019) – Still Austin Whiskey Co., a homegrown distillery situated in the heart of South Austin, today released the second batch of its high-rye bourbon whiskey featuring grains that are 100% grown by Texas farmers. The bourbon is handmade from grain-to-glass at the distillery and then aged in new charred American Oak barrels and bottled at 100.4 proof (50.2% ABV). The expression follows the Spring 2019 release of the company's first batch of aged bourbon whiskey. It is comprised of a high-quality mash bill worthy of its hometown: 70% Non-GMO white corn (the same found in Austin's tortillas), 25% Elbon rye (which imparts a natural spice) and 5% wildfire malted barley. But, unlike the first batch of whiskey, which was only available in Austin, the second batch will be distributed to liquor stores and whiskey bars throughout the state of Texas.
"We're incredibly proud of the limited-edition second release. The reception we felt on the first release here in Austin was outstanding and we are excited to share this limited second release with our friends across Texas," said Chris Seals, CEO of Still Austin. "We got to this point by performing every step with intention, which means we focus on every detail in the process to make bourbon that highlights the natural flavor from our local grains."
The newest release has delightfully sweet aromas which shine through on the initial nose, followed by waves of browned butter with baking spices such as cinnamon, allspice, and clove. The alcohol is soft and round on the palate, with a surprisingly long finish, depth, and finesse.
The distilling team is led by Head Distiller John Schrepel, who hand-selected 60 barrels of excellent quality to release. John draws on the experience of Nancy Fraley, Still Austin's master nose, who has a reputation for quality and master blending. John also benefits from the decades of experience of Mike Delevante, Still Austin's master distiller who designed the distillery to make the highest quality of bourbon, and is one of the most experienced and respected distillers in North America.
Still Austin is an independent craft whiskey distillery founded in 2015, focusing on a true grain-to-glass concept that produces the highest quality whiskey by perfecting every part of the process and using local resources and sustainable practices. The team is committed to carrying out each part of the process in-house. That means never sourcing whiskey from another distillery, and instead always hand-making everything from scratch, and managing everything in-house – milling, mashing, fermenting, distilling, barreling and bottling.
Still Austin has figured out how to use Texas weather to its advantage. The region's high heat, humidity and rapidly shifting temperatures encourage spirits to move rapidly in and out of the oak barrels and mature relatively quickly—but, if this process is left unchecked, it can also cause the bourbon to have heavy oak flavor or harsh tannic qualities. To prevent this, Still Austin intentionally "raises" each barrel from birth to maturity, using a labor-intensive philosophy known as élevage. Focusing on flavor and balance, the meticulous practice uses a slow water reduction technique to give the alcohol a softness on the palate and bring more "mature" notes, like vanilla and caramel, to the forefront. The result is a bourbon that highlights the natural flavor of the local grain, with no faults whatsoever.
The company is serious about making the highest quality of bourbon and doing that in a way that doesn't destroy the earth. Still Austin implements sustainable practices, such as: operating a low-impact distillery that is energy efficient and conserves water, cutting carbon emissions through local sourcing, working alongside farmers who use sustainable agriculture practices, increasing the biodiversity of the region by growing heritage grains, and achieving a zero waste goal by returning spent grains to local farmers to feed their animals.
"From the beginning, Still Austin committed to producing high-quality grain-to-glass spirits while staying true to itself and its dedication to the larger community and implementing sustainable practices," said Brandon Joldersma, General Manager at Still Austin. "Our high-rye bourbon whiskey, while young, is delicious – probably the only one-year-aged expression on the market that anyone should taste."
The second batch of Still Austin's high-rye bourbon whiskey will be available throughout Texas in 750ml bottles at liquor stores and whiskey bars for a suggested retail price of $45.00. The bottle's label was designed by local artist Josh Row.
In addition to the Bourbon Whiskey, Still Austin also produces Still Rye Gin, made 100% from Texas-grown rye grain.
The Distillery
Located at 440 East St. Elmo Road in Austin, Texas, the Still Austin distillery is a "whiskey lover's paradise." The Tasting Room is open to the public Wed-Thur (3-9pm), Fri-Sat (12-10pm) and Sunday (12-6pm) and closed on Monday and Tuesday. Distillery tours are available on by appointment on Monday and Tuesday, on Wed-Thu at 5 & 7pm, Fri-Sat at 1, 3, 5 and 7pm and Sun at 1, 3 and 5pm. The tour provides a behind the scenes look into the distilling process, history of the company and an up close and personal look at the 42-foot custom-made column still, "Nancy," (and her sister, the copper-pot still dubbed, "The Queen"). Admission for a 60-minute tour is $15 and includes a spirit tasting. Two-hour private tours with the Master Distiller are also available for $40. Reserve your spot by emailing [email protected] or calling 512.276.2700. Walk-ins are accepted (subject to availability).
For more information about the high-rye whiskey and brand behind it, visit www.stillaustin.com and follow Still Austin on Facebook at Facebook.com/StillATX, Twitter @StillATX and Instagram @Still_ATX.
About Still Austin Whiskey Co.
Founded in 2015 by three Austin families, Still Austin Whiskey Co. is a true grain-to-glass Distillery, located in the heart of Austin, Texas. All spirits are hand crafted using grains grown by Texas farmers. Still Austin's collection of spirits includes Still Austin's High Rye Bourbon Whiskey and Still Rye Gin. Still Austin places a high value on sustainability, with a focus on cutting carbon emissions through local sourcing, increasing the biodiversity of our region through heritage grains, returning spent grains to local ranchers to feed their animals, and operating a distillery that is designed for energy efficiency and water conservation. The distillery offers tours and tastings Wednesday through Sunday as well as private events.
# # #