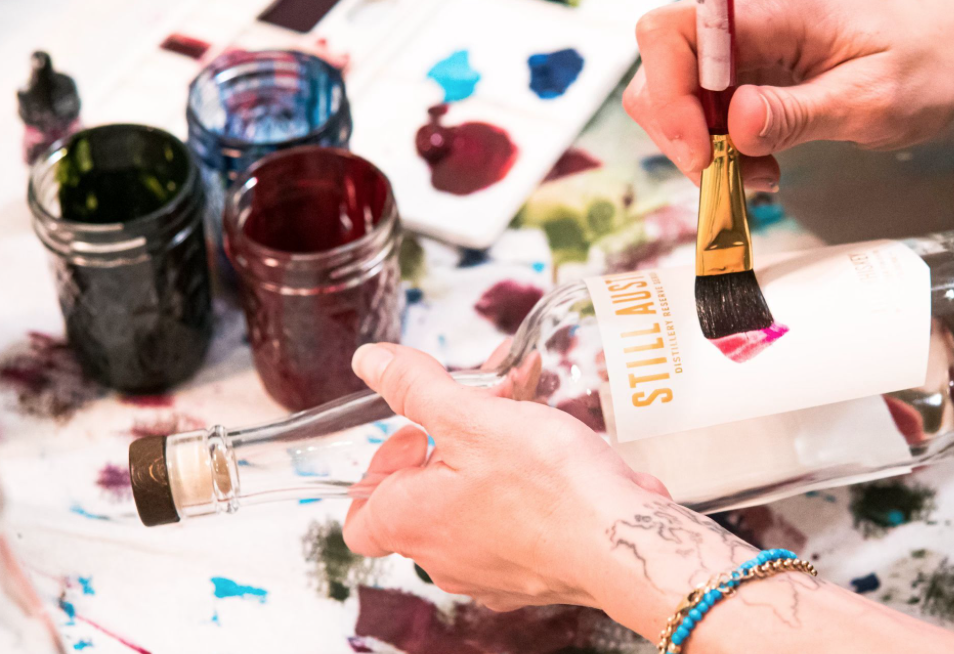 Third Expression in the company's "Distillery Reserve Series" Available for Purchase on Saturday, December 12, Beginning at Noon
Austin, TX (December 12, 2020) – Still Austin Whiskey Co., a homegrown distillery situated in the heart of South Austin, will unveil a limited-release 100% Rye Whiskey finished in Sherry Casks, the third expression in its "Distillery Reserve Series." The team only produced (565) 750ml bottles of the Rye whiskey, which retail for $120 each. Whiskey lovers can purchase this special release exclusively at the distillery's Tasting Room, located at 440 East St. Elmo Road, Ste. F in Austin, beginning on Saturday, December 12 at 12:00pm. Previous expressions in the Series sold out swiftly.
Made from 100% Texas rye grains, the new expression represents a true expression of the distiller's art. The rye whiskey (from three separate barrels) was finished in Pedro Ximénez sherry casks for eight months and aged at least two years. It was bottled at 107.8 proof (53.9% ABV).
Like the spirits inside, the bottles themselves are works of creative expression. Still Austin enlisted local abstract artist Rachel Dickson who applied her traditional skills with color and composition to create several hundred unique versions of the bottle featuring one-of-a-kind labels. Each conveys a singular mood while maintaining a unified color palette.
"This Distillery Reserve Series extremely limited release combines two of our most exciting ventures: our currently aging barrels of 100% Texas rye whiskey and sherry cask finishing," said John Schrepel, Head Distiller. "The aging process resulted in a cozy mahogany color that's perfect for the holidays and a fruit-forward nose layered with hints of holiday spices, dark chocolate, and tannic and citrus underpinnings that will surely satisfy."
Tasting Notes
Look: deep red, amber, mahogany
Nose: chocolate cherries, cinnamon, fig, cranberry, dates, sweet/tannic, citrus, pine needles, caramel
Palate: dark chocolate, wood tannins, allspice/nutmeg/gingerbread cookie, cherry pie filling, strawberry rhubarb pie
Finish: fruit/wood notes, spicy peppercorn, oatmeal cookie, toasted marshmallow
Grain-to-Glass Philosophy
Still Austin is an independent craft whiskey distillery founded in 2015, focusing on a true grain-to-glass concept that produces the highest quality whiskey by perfecting every part of the process and using local resources and sustainable practices. The team is committed to carrying out each part of the process in-house. That means never sourcing whiskey from another distillery, and instead always hand-making everything from scratch, and managing everything in-house – milling, mashing, fermenting, distilling, barreling and bottling.
The Still Austin distilling team is led by Head Distiller John Schrepel, Master Blender Nancy Fraley and veteran Master Distiller Mike Delevante, one of the most experienced and respected distillers in North America who designed the distillery to make the highest quality of bourbon. That includes a 42-foot custom-made column, "Nancy," (and her sister copper-pot still, "The Queen") which give the distillers serious creative license to create unique new flavors and spirits.The team also uses Texas weather to its advantage. The region's high heat, humidity and rapidly shifting temperatures encourage spirits to move rapidly in and out of the oak barrels and mature relatively quickly—but, if this process is left unchecked, it can also cause the bourbon to have heavy oak flavor or harsh tannic qualities. To prevent this, Still Austin uses a meticulous slow water reduction technique focused on flavor and balance, which gives the alcohol a softness on the palate and brings more "mature" notes to the forefront. For more information, visit www.stillaustin.com
About Still Austin Whiskey Co.
Founded in 2015 by three Austin families, Still Austin Whiskey Co. is a true grain-to-glass Distillery, located at 440 East St. Elmo Road in the heart of Austin, Texas. All spirits are hand crafted using grains grown by Texas farmers. Still Austin's collection of spirits includes Still Austin's flagship Straight Bourbon Whiskey, High-Rye Bourbon Whiskey, and Still Rye Gin. Still Austin places a high value on sustainability, with a focus on cutting carbon emissions through local sourcing, increasing the biodiversity of the region through heritage grains, returning spent grains to local ranchers to feed their animals, and operating a distillery that is designed for energy efficiency and water conservation.
About the Artist
Austin based artist, Rachel Dickson, has been honing her artistic skills for the past decade. After the death of her brother in 2014 and then of her son's biological mom in 2015, she used art as a form of therapy to deal with anger and heartache. She decided to pursue painting as a full-time career in 2018. She uses art as a therapy, and her work showcases the vast mix of emotions that encompass grief. She specializes in watercolors and frequently uses acrylic and collage. The female form is prevalent in her work and her use of color and white space are the foundation of each piece. She sells her original art and takes commissions. For custom commissions or art licensing/publishing inquiries, please email [email protected].
# # #