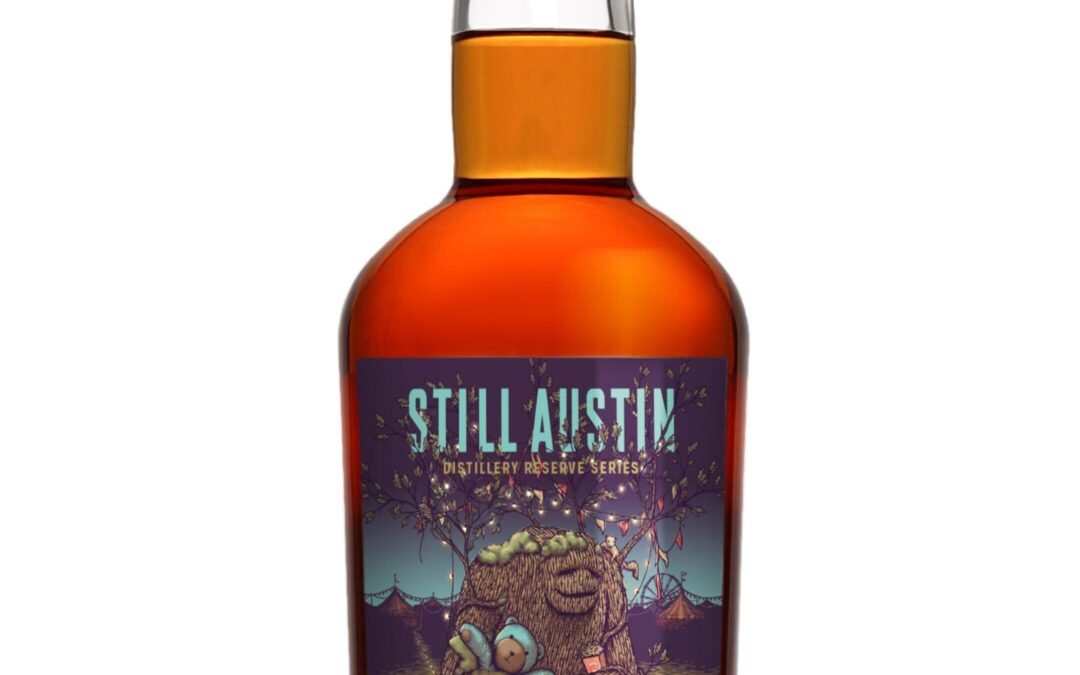 Latest Expression in the company's "Distillery Reserve Series" Only Available Online Via Secret Link
Austin, TX (October 18, 2021) – Still Austin Whiskey Co., a homegrown distillery situated in the heart of South Austin, is excited for the return of its limited-edition Monster Mash cask strength whiskey under its special "Distillery Reserve Series" just in time for the Halloween holiday.
The whiskey was handmade from grain-to-glass at the distillery, aged for three years in new charred American Oak barrels, and bottled at 105.5 proof (52.75% ABV). The (monster) mash bill features grains that are 100% grown by Texas farmers: 63% Non-GMO white corn, 17% Winter Hawk wheat, 10% malted rye, 8% rye and 2% malted barley.
The genesis of this whiskey started when the team discovered five "super sacks" in the distillery which were all less than half full. Lead Distiller John Schrepel decided to see what happened when he combined each of the remaining grains found in each sack. The result turned out even better than he could have imagined.
The team loved the label for last year's Monster Mash so much—with its oak  monster and his squirrel friend—that they decided to continue working with Austin-based artist Dan Grissom of Biscuit Press. The new label features the same monster though perhaps a bit older and wiser now, with even more moss growing on his bark. This year, the monster is just leaving the fall carnival—and he seems to have had a wonderful time.
When & Where to Buy
The team produced approximately (350) 750ml bottles which will retail for $100 each. Consumers will have the chance to purchase a bottle beginning today by visiting StillAustin.com and submitting their email address. Entrants will then receive an email on Monday, 10/25 at 12pm CST with a secret purchase link. Bottles will be sold on a first come, first served basis. Those who purchase a bottle will receive a complimentary, limited-edition 12×16 poster of the Monster Mash label, signed by Dan Grissom. Folks will be able to pick up their bottles at the Still Austin distillery (440 E. St Elmo Road Unit F) on Friday and Saturday, October 29 & 30, beginning at 12pm each day.
Monster Mash Tasting Notes
This monster greets you with scents of salted pecans, dates and saltwater taffy, followed by subtle hints of caramel, cherries, brown sugar, toffee and peanut butter. The velvety palate brings notes of chocolate cherries, salted pretzels, Whoppers malt candy, fluff, and milk chocolate. These initial notes are followed closely by a fall carnival of allspice, spiced apples and maple syrup. A hint of peaches lingers within a complex finish that is at once smooth, round, sweet and dry.
Grain-to-Glass Philosophy
Still Austin is an independent craft whiskey distillery founded in 2015, focusing on a true grain-to-glass concept that produces the highest quality whiskey by perfecting every part of the process and using local resources and sustainable practices. The team is committed to carrying out each part of the process in-house. That means never sourcing whiskey from another distillery, and instead always hand-making everything from scratch, and managing everything in-house – milling, mashing, fermenting, distilling, barreling and bottling.
The distilling team is led by Head Distiller John Schrepel, Master Blender Nancy Fraley and veteran Master Distiller Mike Delevante, one of the most experienced and respected distillers in North America who designed the Still Austin distillery to make the highest quality of bourbon. That includes a 42-foot custom-made column, "Nancy," (and her sister copper-pot still, "The Queen") which give the distillers serious creative license to create unique new flavors and spirits. The team also uses Texas weather to its advantage. The region's high heat, humidity and rapidly shifting temperatures encourage spirits to move rapidly in and out of the oak barrels and mature relatively quickly—but, if this process is left unchecked, it can also cause the bourbon to have heavy oak flavor or harsh tannic qualities. To prevent this, Still Austin uses a meticulous six-month slow water reduction technique focused on flavor and balance, which gives the alcohol a softness on the palate and brings more "mature" notes, like vanilla and caramel, to the forefront.
For more information, visit www.stillaustin.com
About Still Austin Whiskey Co.
Founded in 2015 by three Austin families, Still Austin Whiskey Co. is a true grain-to-glass distillery, located at 440 East St. Elmo Road in the heart of Austin, Texas. All spirits are hand crafted using grains grown by Texas farmers. Still Austin's collection of spirits includes Still Austin's flagship Straight Bourbon Whiskey, High-Rye Bourbon Whiskey, and Still Rye Gin. Still Austin places a high value on sustainability, with a focus on cutting carbon emissions through local sourcing, increasing the biodiversity of the region through heritage grains, returning spent grains to local ranchers to feed their animals, and operating a distillery that is designed for energy efficiency and water conservation. 
About the Artist
Dan Grissom is an illustrator, designer, painter, and printmaker based in Austin, Texas. He specializes in screen printed concert posters and has done work for a diverse list of musicians including many local Austin bands. His gallery work includes solo exhibitions at the University of New Mexico Gallup and Northwestern State University in Louisiana. Dan has been a part of many group exhibitions including several through Spoke Art Gallery based in San Francisco and New York. His work has also been featured in several art books as well as magazines based in the U.S., France, and Brazil. In 2015, Dan built a screen printing and letterpress shop in his garage called Biscuit Press where his work is printed, as well as the work of other local artists and designers. He's taught multiple screen printing workshops with art students at both the University of Texas in Austin and the University of New Mexico in Gallup. Find him on Instagram @dangrissom and Facebook @dangrissomart.
# # #