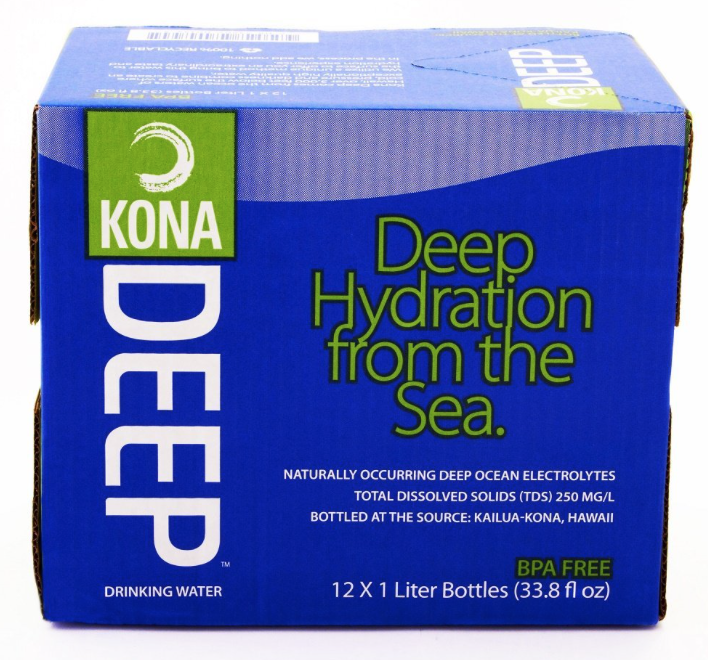 Electrolyte-Rich Bottled Water Delivers Great Taste, Purity & Performance
Kailua-Kona, Hawaii (February 10, 2016) – Kona DeepTM, the Hawaii-based bottled water company, will launch its namesake brand in the continental United States beginning in March. Already widely distributed in its hometown state of Hawaii, the introduction signals the creation of a new category: deep ocean drinking water. The naturally electrolyte-rich bottled water, which delivers an extraordinary taste and hydration experience, will initially be distributed throughout the natural, grocery and specialty retail channels in the Western United States. Later this year, Kona Deep will expand its distribution throughout the rest of the country.
Until now, consumers had to choose between spring water and highly processed, functional purified waters with artificially added electrolytes. With Kona Deep, bottled water drinkers no longer have to choose between purity and performance. The new brand offers both – the purity of a trusted, natural source with nothing artificial, nothing added and the hydration benefits of electrolytes. A new study that's currently underway at the University of Arizona, which seeks to evaluate the impact of post-exercise hydration with deep ocean mineral water on exercise performance, rehydration and recovery, may further strengthen this connection.
Kona Deep comes from melted glacial water, which sunk to the ocean floor more than 1,000 years ago, creating a deep ocean current that still flows today. This infinitely renewable source absorbs naturally occurring electrolytes and minerals along its journey across the ocean floor and along volcanic fissures, which are crucial for hydration and body balance.
While deep ocean water is difficult to access, the coast of Kona, Hawaii, provides an ideal location to source and bottle the water because the ocean floor falls sharply to more than 3,000 feet below the surface. At this depth, near-freezing cold and prolonged darkness create a pure water that is protected from light and surface ocean water. Once brought to the surface, the water is desalinated and bottled at the source with a total dissolved solids (TDS) content of 250, the perfect balance of performance and taste. During the process, nothing is added.
Kona Deep Chief Executive Officer Patrick Turpin, co-founder of PopchipsTM – the innovative and wildly popular better for you snack – looks forward to sharing the unique benefits of deep ocean water.
"Kona Deep is a great option for those who want their water to work harder, naturally," said Turpin. "We're giving people who want more from their bottled water a reason to rethink their choice."
While Hawaii was a natural first place to launch, Turpin is setting his sights on growing this brand across the continental U.S., where premium bottle water sales have skyrocketed more than 300% over the past five years.[1]
"Deep ocean water is a billion dollar category in Asia, but this is still very much a new category of bottled water in the U.S.," Turpin added.
The new brand has also teamed up with world-class professional surfer and Hawaii-native Malia Manuel, as well as Arizona-based hurdler and Olympic hopeful Georganne Moline, as brand ambassadors. Both women represent a generation of consumers who want more from their bottled water and value natural products.
Kona Deep is now available in Hawaii in grocery stores, convenience stores, natural stores, and military exchanges in 500mL and 1L bottles. Consumers can purchase Kona Deep in store or online at www.amazon.com.
For more information, and a full list of retail locations, please visit www.konadeep.com and follow the brand on Twitter and @KonaDeep
About Kona DeepTM
Kona Deep is a deeply refreshing and restoring water with a unique balance of naturally occurring deep ocean electrolytes essential to life and health. Kona Deep comes from the ocean waters of Hawaii, over 3,000 feet below the surface where cold, pressure and darkness combine to create an exceptionally high quality water. We utilize a unique method to bring the water to the surface to offer you an extraordinary taste and hydration experience. In the process, we add nothing.
# # #
[1] Beverage Digest 2015 Fact Book