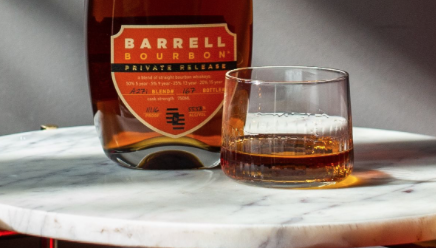 New Series Features 49 Unique Releases Married in Ex-Bourbon Barrels
Louisville, Ky. (November 17, 2020) – Following the successful launch of its award-winning Private Release Rum and Whiskey Series, Barrell Craft Spirits (BCS) will introduce its first-ever Private Release Bourbon Series later this month.
For this special release, BCS selected bourbons sourced from Kentucky, Tennessee and Indiana, spread across four different ages and then blended them into 49 different recipes. Each blend number has its own ratios, printed on the label and is constructed in its own ex-bourbon barrel. With each release, a new set of base bourbons is selected, so every recipe is only made once.
Known best for sourcing and blending award-winning, unique aged spirits at cask strength, BCS' Private Release Bourbon Series is an exercise in micro-blending and variations on a theme. It affords the team the opportunity to showcase its blending expertise while maintaining a single barrel-like scale controlled entirely by hand and by palate. Private Release Barrels also offer retailers, bourbon clubs and whiskey aficionados alike something truly unique.
"The Private Release Bourbon project was designed to synthesize a growing demand for exclusive store, group, and state 'picks' with our belief that blending can make bourbons that span the greatest spectrum of flavor," said Company Founder Joe Beatrice. "Our Private Release program allows an entirely new set of options for those looking for unique and exclusive products."
Joe is intimately involved with every step of the production process, using his exceptional palate to choose and create great spirits alongside Chief Whiskey Scientist Tripp Stimson, National Director Will Schragis and Assistant Blender Nic Christiansen. Together, they strive to be the most creative, forward-thinking and progressive whiskey blenders in the nation. That means sourcing the finest ingredients from around the world, and using them to blend spirits that are far greater than the sum of their parts. It also means maximizing the best attributes of each element. Every component changes the overall character of these blends, as does the barrel in which each is aged. For those reasons, these whiskeys take months to polish and perfect.
Each offering in the Series is produced as a limited release, has a distinct flavor profile and contains between 150-180 total 750ml bottles, with an SRP of $109.99. Because some were purchased through retailers or clubs, or may only be available online, BCS has added a special section to its website which contains the full list. Suggestions for where to buy will be updated as they become available. Click the link below for more information:
https://www.barrellbourbon.com/privatereleasebourbon
The Barrell Craft Spirits award-winning line of products is currently sold in 45 US states and online via www.barrellbourbon.com. Follow Barrell Craft Spirits on Facebook, Twitter, Instagram, and LinkedIn.
About Barrell Craft Spirits
Barrell Craft Spirits is an independent blender and bottler of unique aged, cask-strength sourced whiskey and rum spirits, that is recognized for its blending expertise. The company selects and blends products that explore different distillation methods, barrels and aging environments, and bottles them at cask strength. Every batch and single barrel is produced as a limited release and has a distinct flavor profile.
# # #
​