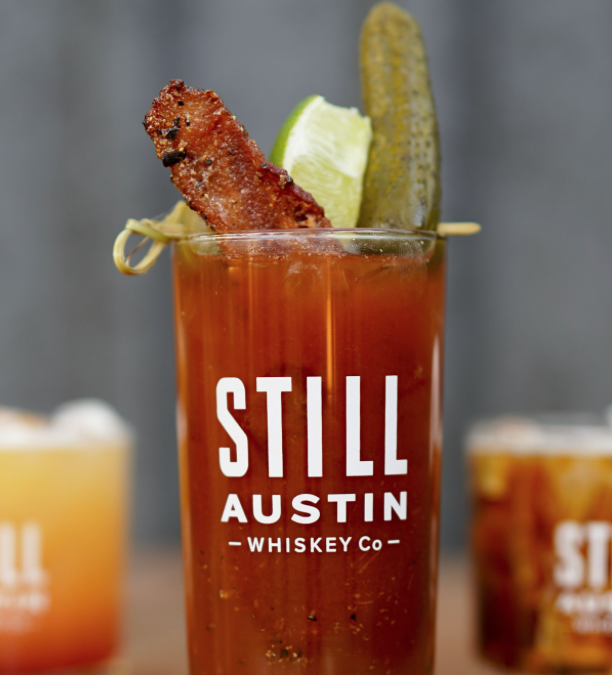 Service Starts Saturday, January 23, Beginning with Brunch at 11am
Austin, TX (January 23, 2020) – Still Austin Whiskey Co., the homegrown distillery situated in the heart of South Austin, is launching a new on-site food truck in partnership with Chef Wesley Dills of The Bearded Baking Company. Beginning today, the company will welcome guests to the new hot spot in town, located in the company's Whiskey Garden at 440 East St. Elmo Road, Ste. F in Austin. The full food menu will be available Tuesday-Friday from 12-8pm and Saturday & Sunday from 11am-8pm, with brunch and brunch-specific cocktails served on the weekends from 11am-3pm. Reservations are not being accepted at this time and COVID guidelines will be followed, meaning all guests must wear a mask anytime they are not seated, and maintain social distancing throughout their stay.
"Wes has been one of our favorite partners, having catered for several Still Austin music concerts and distillery events," said Brandon Joldersma, General Manager, Still Austin Whiskey Co. "He has a knack for creating delicious dishes that highlight sweet and savory elements. His food sings with flavor. He even created a signature cookie called the ATX C4 using our straight bourbon whiskey, which is a must have!" 
A native of North Carolina, Wes Dills grew up surrounded with the idea that "when we meet, we eat."Whether it was church, community, or family, he quickly developed a love for the dessert table. After earning his Associates in Fine Arts from Johnson & Wales University with a concentration in the Culinary Arts, Wes served as the Foodservice Director for Louisburg Dining – Chartwells. He also held positions atEast Carolina University – Aramark (Chef Manager/Retail) and Zoës Kitchen (Catering Manager), before putting down roots in Austin in 2018 and founding The Bearded Baking Company.
The new food menu will feature a variety of savory and sweet dishes including: Bubba's BLT (chicken fried bacon, tomato, lettuce, dukes), Gravy Biscuit (house bacon sausage gravy), Savory Cheesecake (caramelized onion, pesto, bacon, arugula, parm, crostini) and the aforementioned Still Austin Whiskey Co. ATX C4 Cookie. While the full cocktail menu is available anytime in Still Austin's Tasting Room, the team has created a brunch-specific cocktail list featuring four of Still Austin's signature bourbon whiskey and gin libations, from the classic Bloody Mary and Gin & Juice, to the more adventurous Lady Marmalade and Wakey Wakey Bourbon Bakey. To view the full menu including prices, click the link below: https://www.dropbox.com/sh/xuoqbyiw8t0fg6h/AABSWaX-YJTfZ9tke2VUhLc9a?dl=0
About Still Austin Whiskey Co.
Founded in 2015 by three Austin families, Still Austin Whiskey Co. is a true grain-to-glass Distillery, located at440 East St. Elmo Road in the heart of Austin, Texas. All spirits are hand crafted using grains grown by Texas farmers. Still Austin's collection of spirits includes Still Austin's flagship Straight Bourbon Whiskey, High-Rye Bourbon Whiskey, and Still Rye Gin. Still Austin places a high value on sustainability, with a focus on cutting carbon emissions through local sourcing, increasing the biodiversity of the region through heritage grains, returning spent grains to local ranchers to feed their animals, and operating a distillery that is designed for energy efficiency and water conservation. For more information, visit www.stillaustin.com
# # #