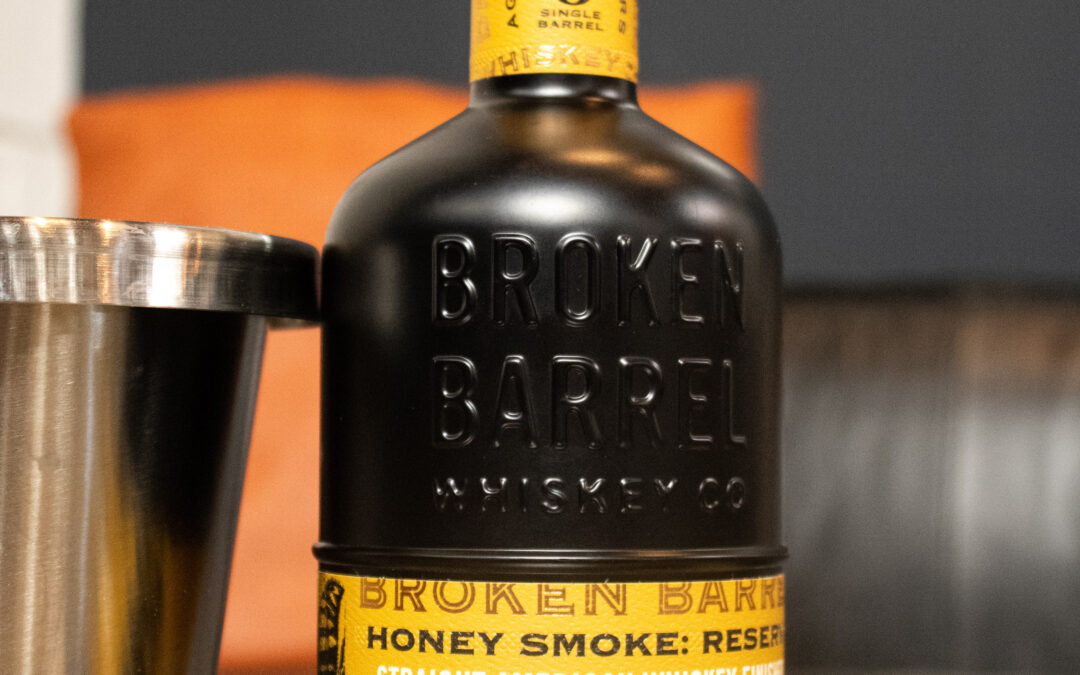 First Blended American Whiskey Finished Using Honey Barrel Staves and Texas Sotol Barrel Staves Available Online and in Select Markets
Los Angeles, CA (November 28, 2023) – Broken Barrel Whiskey Co. known best for its innovative whiskey finishing techniques, has introduced Honey Smoke Reserva, which builds off its immensely popular Honey Smoke Rye released last year. This new offering features a Kentucky-distilled American Whiskey aged for six years, finished for five months using 50% Honey barrel staves and 50% Texas Sotol barrel staves, and bottled at 110-proof (55% ABV). The result is a whiskey with a deep, earthy, and smoky complexity.
"The response we received to last year's Honey Smoke rye whiskey was incredible," said Seth Benhaim, Founder of Broken Barrel Whiskey Co. "The older whiskey, higher proof, and longer finishing time for this year's release promises to make it one of the most distinctive tasting spirits ever produced. We're also making whiskey history as the first to finish this whiskey using a combination of honey and sotol barrel staves. This is a must buy!"
Tasting Notes
On the nose, the earth and terroir of the sotol steal the spotlight, while the sweetness of the honey waits patiently to be discovered. With the earthy complexity of barrel aged Texas sotol, a truly extraordinary elixir offers the senses aromas of honeycomb sweetness mixed with charcoal and woodiness. On the palate, a remarkable flavor unfolds with hints of vanilla and spice, harmonized with golden honey sweetness that balance the grain and oak. The smoke underpins the experience with a constant but never overwhelming presence that truly separates this whiskey. It is a fascinating union, creating a compounding unique flavor profile, departing from the 2022 release that had vegetal and floral notes. The finish leaves lasting impressions of sweet spice and warming smoky flavors.
Availability
Approximately 1,900 bottles of Broken Barrel Honey Smoke Reserva are now available online at BrokenBarrelWhiskey.com and Seelbachs.com, and in select retail stores in: CA, IN, KY, MN, OK, and SC. The expression features a mash bill of 99% corn and 1% malted barley and an Oak Bill (the combination of staves from different types of barrels used in each expression) of 50% Honey barrel staves and 50% Texas Sotol barrel staves. The limited-release expression has a suggested retail price of $79.
Finishing is Everything
Broken Barrel has become known for producing whiskeys (in partnership with Green River Distilling in Owensboro, Kentucky), which showcase the impact a non-traditional barrel finishing practice has on flavor. While most whiskey is aged in barrels and then bottled, Benhaim believed that there was a missed opportunity in traditional barrel finishing – namely the reliance on one type of barrel used to finish one type of whiskey. He created Broken Barrel to expand the barrel finishing concept, involving not only broken barrel staves (vs. intact barrels), but also the combination of multiple barrel types all finishing aged bourbon in tandem. Once Broken Barrel whiskey ages for a minimum of two years, barrels are carefully selected, dumped, and batched in a large tank. The broken barrel staves from multiple different kinds of casks are then added to further age and finish the whiskey.
Broken Barrel boasts an award-winning core whiskey portfolio including Americana (whiskey), Heresy (rye), Small Batch (bourbon), and Cask Strength (bourbon), the latter of which was named Best Kentucky Finished Bourbon at the 2023 World Whisky Awards. Additionally, in the spirit of experimentation, Broken Barrel regularly issues special releases which allows the team to further flex its creative muscles and incorporate barrel staves from various combinations of unique casks sourced from all over the world. To date, Benhaim has purchased whiskey barrels from over a dozen countries and has released nearly 30 unique whiskeys with varying Oak Bills. Past limited releases have incorporated various types of barrel staves including Barbadian Rum, French Oak, Cognac, Armagnac, Islay, Maple, Mizunara, and Amontillado.
Whiskey enthusiasts can follow Broken Barrel Whiskey Co. on Facebook and Instagram.
About Broken Barrel Whiskey Co.
Founded in 2017, Broken Barrel Whiskey is a portfolio of premium whiskeys sourced from Green River Distilling in Owensboro, Kentucky. The core expressions feature exclusively Kentucky Straight Bourbon and Rye Whiskey, which are further aged and finished using various types and combinations of barrel staves. For more information, please visit www.brokenbarrelwhiskey.com
# # #