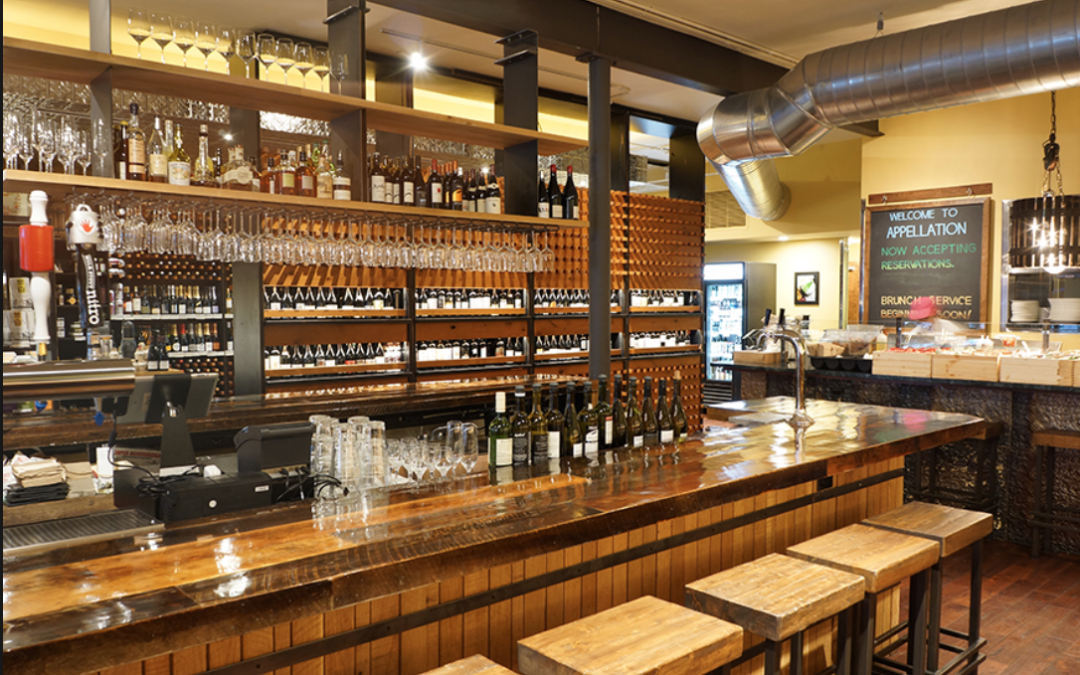 Chicago (April 19, 2016) – Pastoral's Appellation, a 75-seat wine bar and restaurant in Andersonville, today officially debuted its first spring menu. To coincide with the launch, Appellation will also unveil a new spring art exhibition from local Chicago artist, Jill Sutton, within the restaurant's dining area.
Appellation's lively new spring menu delivers a simple, authentic approach to food and wine with a sense of place, in a warm, inviting space. The restaurant's name and menu inspires guests to appreciate the place of origin for each ingredient and wine pairing, as well as the farmers and producers with whom Pastoral has built great relationships over time.
Created by Chef Jesse Williams, who attended the prestigious Culinary Institute of America, the new menu features a range of rustic, approachable and creative cuisine. As the former head chef of Birchwood Kitchen, Chef Jesse has applied her culinary experience to highlight high-quality, seasonal ingredients accented by the cheeses Pastoral has championed for more than 10 years. The menu offers "bites" and "mains," in addition to cheese and charcuterie plates.
New and noteworthy signature dishes include:
Ricotta & sweet pea toast with guanciale
Fried artichokes, egg-lemon sauce, Italian salsa verde, grated Pantaleo
Sausage and clams, green garlic cream, peas, asparagus, grilled bread
Mustard and Herbes de Provence rubbed pork loin, wheat berries, roasted carrots
Steak for two, Cravero Parmigiano-Reggiano and chive butter, peas, cippolini, shaved mushrooms
Potato, ramp, and fennel pierogi with smoked marisa, shaved asparagus, butter, herbs
Goat cheese panna cotta with strawberry hibiscus preserves and rhubarb
The menu also features libations from Appellation/Pastoral's acclaimed wine buyer and educator, Mark Wrobel. The wine bar offers 20 wines by the glass, featuring a rotating selection of small production wines from dynamic producers from around the world, including a French Rose on tap for the warm weather months. In addition to its spring menu, the restaurant recently began serving full service lunch daily from 11am – 3pm, a menu featuring quiche, cheese, and charcuterie.
New Spring Art Exhibit
Pastoral is committed to showcasing unique and inspired works from local artists, which rotate seasonally. To accompany the launch of Appellation's new spring menu, Pastoral will unveil its third art exhibit on Tuesday, April 19, featuring colorful landscape-inspired paintings from talented Chicago artist, Jill Sutton, that are also available for purchase. Pastoral will host a public art opening of her new collection with a free cheese and wine reception that evening from 6-8 p.m. The current exhibit will be featured through June.
With a bachelor's in fine art from Washington University and a master's in fine art from California College of the Arts in San Francisco, Sutton's work has been exhibited extensively throughout Chicago, including shows at Evanston Art Center, University Club of Chicago and Bridgeport Art Center. Currently, she is on the painting and drawing faculty of Evanston Art Center.
Visit the Facebook event page at to learn more about this event: https://www.facebook.com/events/633562703449046/
About Appellation Wine Bar & Restaurant
Launched in October 2015 and located within the Pastoral retail store at 5212 N. Clark Street in Andersonville, Appellation is a 75-seat bistro serving food and wine with a sense of place. Led by Chef Jesse Williams and featuring a menu of approachable and rustic dishes, Appellation encourages guests to sip and savor appetizers, entrees, and other shareable plates featuring the fine cheese and wine offered in Pastoral's retail locations. Appellation serves lunch and dinner during the week, as well as brunch and dinner on weekends. For more information, follow Appellation on Twitter @AppellationChi, and like the wine bar and restaurant on Facebook http://www.facebook.com/AppellationChicago
For more information about Appellation, please call 773.358.7181. To make an online reservation, visit www.opentable.com
# # #