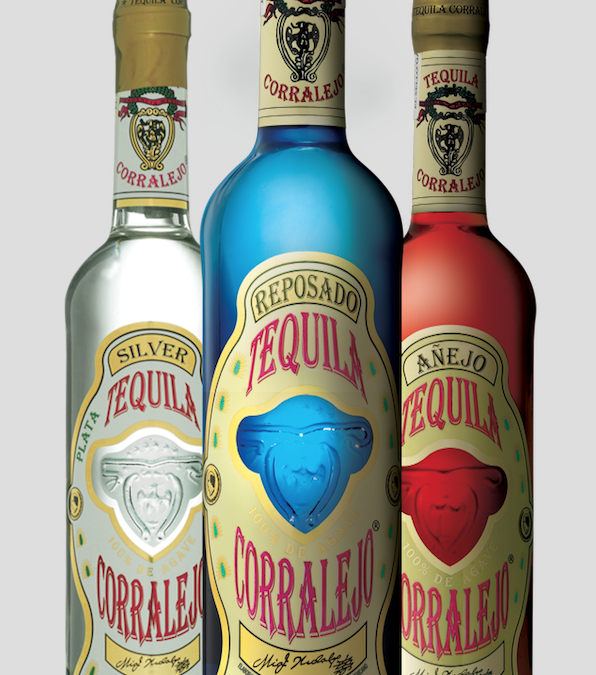 Award-Winning Line of Premium Expressions Made From 100% Blue Weber Agave at Hacienda Corralejo in Guanajuato, Mexico, Gaining Ground in the U.S.
Aliso Viejo, California (March 27, 2017) – Tequila Corralejo®, marketed by Infinium Spirits, may be the best-kept secret in the tequila industry. A beloved brand in its home country of Mexico, the award-winning line of premium tequila has been gaining traction in recent years, especially among both acculturated and unacculturated Hispanics in the US.
According to the Distilled Spirits Council of the United States (DISCUS), Americans are consuming more tequila than ever before (+9.4 percent sales growth in 2015), and after, whiskey, it's one of the fastest-growing categories.
"We're encouraged by the buzz in the tequila category and the growth of Tequila Corralejo," said Megan Lester, brand manager for Infinium Spirits. "Already a top 10 tequila brand in the US, according to Nielsen, we see significant opportunity for increased distribution and consumption, while staying true to the brand's core values and time-honored traditions."
Tequila Corralejo exemplifies Central Mexico's rich culture, heritage and vibrant lifestyle. As one of the few tequilas produced in Guanajuato, Mexico, Corralejo's deep roots and production methods are unique in the tequila industry, dating back to 1755 when Hacienda Corralejo became the first estate in Mexico to produce tequila as a commercial venture.
Tequila Corralejo is made with 100% Blue Weber agave, which is handpicked from only the finest agave fields in Guanajuato. The agave is slow cooked in stone clay ovens for 27 hours then rested for 12 hours before going to the mill. All of the tequilas go through a double distillation. The first distillation takes place in a continuous still, or column still. The second distillation takes place in an Alembic copper pot still imported from Tomelloso, Spain, and is what sets Corralejo apart from other tequilas. Corralejo employs the 400-year-old Charentais method of distillation, the same method perfected by the French in distilling cognac, which allows for exceptional retention of aroma and flavor. The result is a flavor in each of the brand's three expressions that's rich, natural, and unsurpassed in quality and personality.
Corralejo Silver – Made from 100% Blue Weber agave and bottled unaged. 80proof. Gold Medal 2008 San Francisco World Spirits Competition.
Corralejo Reposado – Made from 100% Blue Weber agave and aged four months in barrels consisting of three types of oak – French, American and Encino oak. 80-proof. Double Gold Medal 2007 San Francisco World Spirits Competition.
Corralejo Añejo – Made from 100% Blue Weber agave and aged for 12 months in charred, American oak barrels. 80-proof. Gold Medal 2016 San Francisco World Spirits Competition.
Managing Director Don Leonardo Rodríguez Moreno, a 25-year industry veteran, is key to maintaining the artistry and craftsmanship for which Tequila Corralejo has become known.
"We make Tequila Corralejo using a process that provides an authentic and unique flavor profile," said Moreno. "We are the only tequila using the Charentais distillation method commonly associated with cognac production and have used the same time-honored recipe for 23 years."
The tall, colorful bottles inspired Corralejo's brand messaging: Those With Pride Stand Tall. All of Corralejo's bottles are produced at a glass factory also owned by Moreno, a few miles away from the distillery. In fact, the brand is one of a handful of tequila companies granted the right to produce tequila outside of Jalisco.
Hacienda Corralejo
The distillery is located on the grounds of Hacienda Corralejo, the birthplace of Don Miguel Hidalgo y Costilla, about 70 miles outside of Guanajuato, Mexico.
Availability & Price
Tequila Corralejo is available in 750ml bottles in both on- and off-premise establishments across the United States. The suggested retail prices, which vary by market are: Silver ($21.99), Reposado ($25.99) and Añejo ($32.99). Both the Silver and Reposado expressions are also available in 1.75L bottles for $42.99 and $46.99, respectively.
For more information, please visit http://tequilacorralejo.mx/
About Infinium Spirits
Infinium Spirits is a family-owned spirits company known for igniting brands and accelerating performance. Founded in 2005 and based in Aliso Viejo, California, Infinium Spirits specializes in the import, sales, and marketing of its distinctive portfolio of brands.
# # #