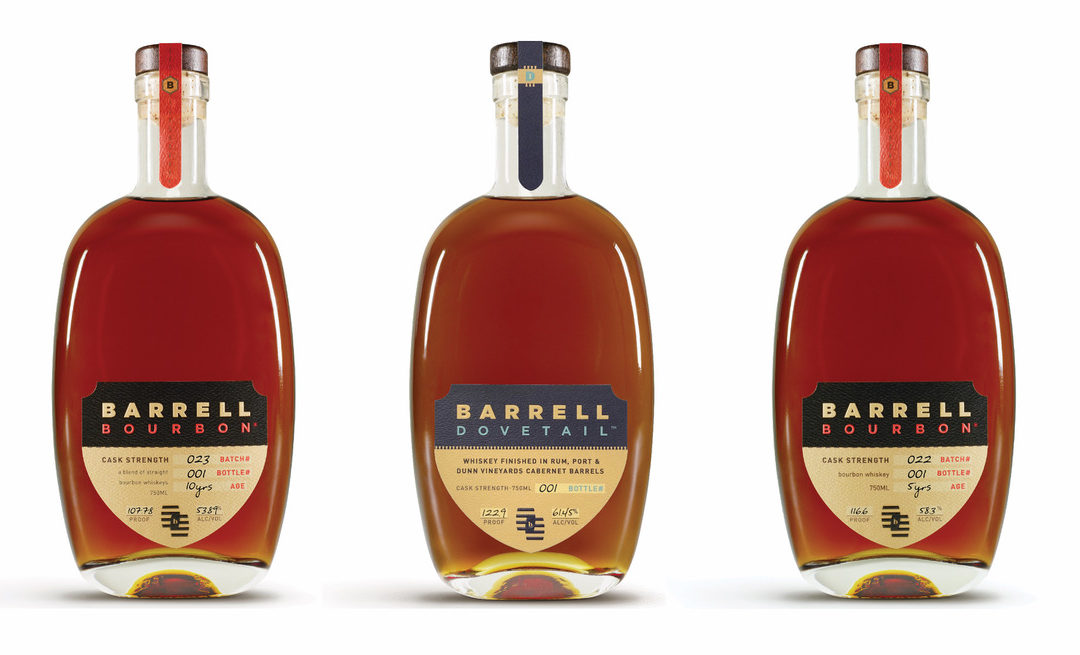 Independent Bottler and Blender's Bourbon Batch 022 Also Named a Finalist Ranking it Among the Top 100 Spirits
Louisville, Ky. (July 23, 2020) – Barrell Craft Spirits (BCS) is thrilled to announce that its Dovetail American Whiskey was awarded the "Chairman's Trophy" at the 2020 Ultimate Spirits Challenge.The expression was the top scoring product in the American whisk(e)y category, receiving 97 out of a possible 100 points (extraordinary, ultimate recommendation) from the judges, who shared the following tasting notes: "ebullient nose of ripe red berries and blossom is anchored by brown sugar, leather, lanolin, and wildflower honey. Rich and powerful on the palate, it is tempered by decadent flavors of maple cream, molasses, and cherry preserves. A truly dynamic and delicious whiskey." Additionally, Barrell Bourbon Batch 022 and Batch 023, received 96 and 93 points respectively, with the former also named a "Finalist" and recognized in the Top 100 Spirits of the competition.
Ultimate Spirits Challenge is among the most respected and experienced authorities in the distillery spirits industry, with a mission to "create and establish a new and higher standard of evaluation that provides accurate, meaningful and useful results." Each product is evaluated blind by panels in multi-stage assessments under ideal tasting conditions over a period of time to remove any inherent or individual bias.
"We're having an incredible year, with Dovetail taking top honors at this prestigious competition and our Barrell Bourbon Batch 021 winning 'Best Bourbon' at the recent San Francisco World Spirits Competition," said Company Founder Joe Beatrice. "It's incredibly satisfying to see several of our releases recognized and truly demonstrates our commitment to source and blend outside the box. Dovetail took us almost a year to get right, from blending to labeling, but it was well worth the wait."
The Winners:
Dovetail American Whiskey (97/100) – blended to highlight some of the team's favorite flavors – woody bourbon; terroir driven Dunn Cabernet; toasted French oak; Late Bottled Vintage Port pipes; black strap molasses casks – all working in tandem to create a buttery and deep whiskey as unique as it is delicious. Available in limited releases using the same ingredients and process with slight proof variations
Barrell Bourbon Batch 022 (96/100) – a marriage of two separate and iconic styles of Bourbon: classily dry and woody Kentucky Bourbon, and floral, herbaceous, and sweet Indiana Bourbon. The final blend was constructed from four separate lots, each with its own nuanced family of flavors. Batch 022 also earned a Gold Medal at the 2020 San Francisco World Spirits Competition
Barrell Bourbon Batch 023 (93/100) – A blend of straight Bourbon Whiskeys, distilled and aged in TN, KY, and IN. Selection of 10, 12, and 15-year-old barrels aged in American white oak barrels. Crafted and bottled in Kentucky.
The Barrell Craft Spirits award-winning line of products is currently sold in 45 US states and online via www.barrellbourbon.com. Follow Barrell Craft Spirits on Facebook, Twitter, Instagram, and LinkedIn.
About Barrell Craft Spirits
Barrell Craft Spirits is an independent blender and bottler of unique aged, cask-strength sourced whiskey and rum spirits, that is recognized for its blending expertise. The company selects and blends products that explore different distillation methods, barrels and aging environments, and bottles them at cask strength. Every batch is produced as a limited release and has a distinct flavor profile.
# # #