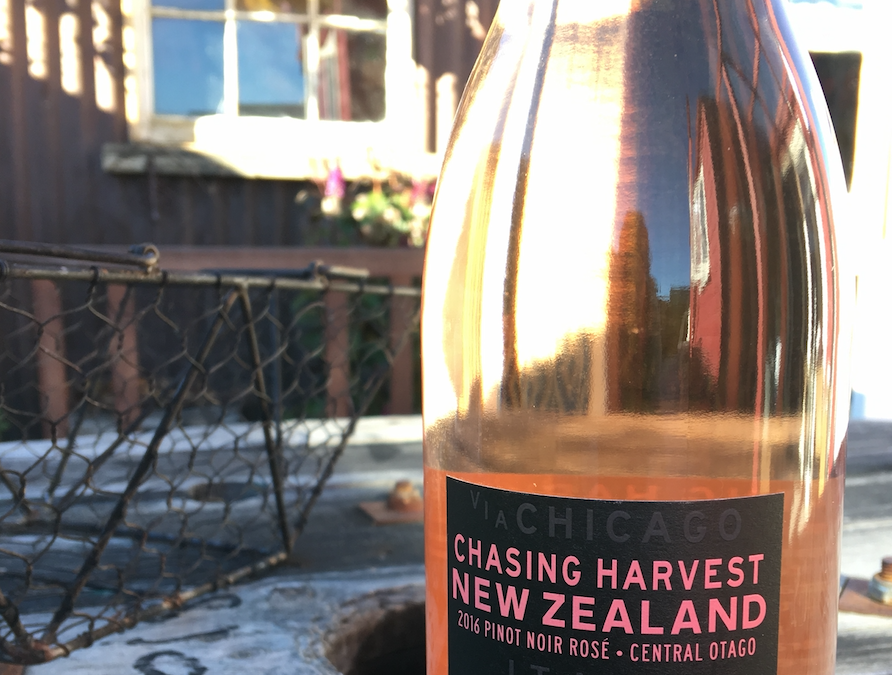 Chicago, Ill. (June 21, 2017) – Chasing Harvest, the premium wine brand handcrafted by the husband and wife team of Mike Kush and Jennifer Kingen Kush, is pleased to launch its first Rosé wine. Sourced from New Zealand's Central Otago region, the brand's newest offering since its 2014 Riesling is made from the pinot noir grape. Using a unique Champagne press cycle and minimizing skin contact the wine is fermented and aged in neutral French oak barrels, which results in a wine great texture, elegant aromatics and delicate pink hue. 
Chasing Harvest 2016 Rosé is a dry wine that exhibits traits that are characteristic of the noble varietal of Pinot Noir and the Central Otago, New Zealand region.
"At Chasing Harvest, we produce distinctive wines that best reflect our favorite wine regions," said Mike Kush, winemaker. "While most Rosé comes from France, the Central Otago region produces some of the best pinot noir in the world. Our first Rosé is a unique expression of Pinot Noir employing techniques of both Champagne and Provence to create an elegant and characterful Rose."
Chasing Harvest offers a variety of wines sourced from two of the world's most exciting wine regions – The Douro Valley, Portugal, and Central Otago, New Zealand. The brand name represents the couple's travel between the Northern and Southern hemisphere for the harvest, which happen at opposite times of the year. Although they call Chicago home, the duo spends a few months of each year in both wine regions: New Zealand (spring) and Portugal (fall). Having strong partnerships with local growers in these regions has afforded them the opportunity to produce their own label from top vineyards. The team's very first crush produced a 2009 Pinot Noir (New Zealand), which quickly sold out. Shortly thereafter, they began making unique blends like a Douro DOC Vinho Tinto and Douro DOC Vinho Branco, both from Portugal.
Chasing Harvest wines are currently available in select on- and off-premise establishments in Chicago, Indianapolis, Southern California, and New Zealand. The team produced only 69 cases of the 2016 Chasing Harvest Rosé, which can be purchased for $20.00 per 750ml bottle. For more information (including availability and tasting notes) and to sign up for the brand's mailing list, please visit www.chasingharvest.com
Follow the brand on facebook https://www.facebook.com/chasing.harvest and twitter @chasingharvest https://twitter.com/chasingharvest 
# # #