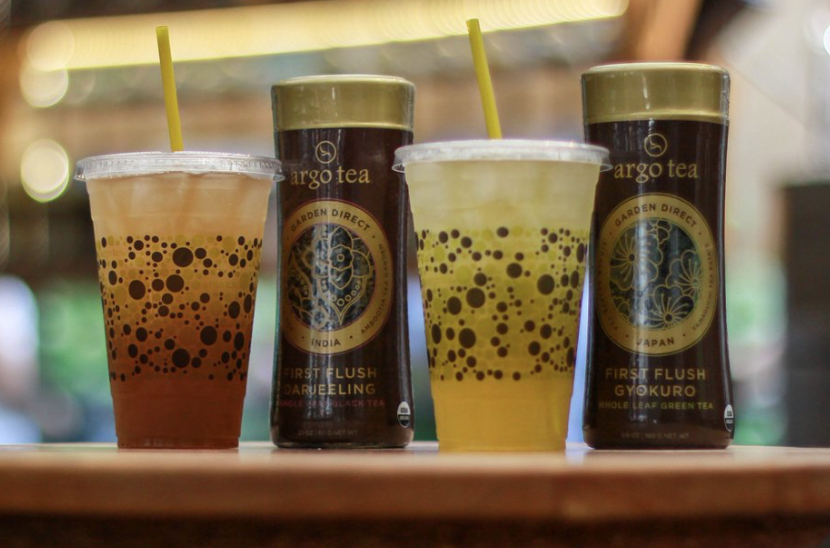 Innovative Cold Brewing Method Yields Pure and Naturally Sweetened Tea with Less Caffeine and Tannins
Chicago, Ill. – (July 18, 2016) – Argo Tea®, the Chicago-based premium tea brand known for its all-natural tea-based signature drinks and premium loose-leaf teas, today announced its newest café menu offering, cold brew tea.
By using an innovative method that differs from traditional hot water extraction, Argo Tea is pioneering a new category of cold brew tea. Cold water allows caffeine and tannins to leach out of the tea leaves at a much slower rate, unlike hot water extraction which "shocks" the leaves. The slow, cold water brewing process virtually eliminates the possibilities of over-steeping the tea into a bitter and astringent brew, resulting in a smoother flavor. Argo Tea adds a hint of pure cane sugar to enhance the natural sweetness of the tea, while retaining under 20 calories or under for a cup of cold brew tea.
To ensure the best quality of cold brew tea, Argo Tea has selected two of the highest grade, premium loose tea leaves, from its trusted partners. They include:
Ambootia Garden in Northeast India (Darjeeling black tea) – With 150 years of history, tea leaves are grown on steep slopes in the foothills of the Himalayas, often covered by dense fog and heavy rainfall, protecting the leaves
Maruei Garden in Japan (Gyokuro green tea) – Cultivated nearly 1,000 feet above sea level, shade grown leaves are covered to block out sunlight 20 days before harvesting, increasing amino acids and theanine levels
Argo Tea proudly sources the best ingredients from around the world, including handpicked, loose-leaf teas, to create a variety of innovative signature beverages that blend a perfect balance of smart nutrition and craveable taste.
"Argo Tea is passionate about creating new ways for people to experience tea," said Arsen Avakian, founder and CEO, Argo Tea. "We are committed to being a sustainable business by working with the best global tea growers, which have a direct impact on the quality of our product."
Cold Brew is the latest innovation from Argo Tea's new rotating Mixology Special, and a permanent addition to the café menu board. The new offering is now available in all Argo Tea cafés in three different sizes: 16oz. (10 calories), 20oz. (15 calories) and 24oz. (20 calories).
About Argo Tea
Since brewing its first cup of tea in 2003, Argo Tea has quickly become a household name and leading multi-channel, branded beverage company. Its ready-to-drink teas in Argo Tea's iconic bottles are now available in over 30,000 outlets nationwide through partnerships with premier retailers that value its brand-defining commitment to quality, sustainability and healthy living. With nearly 50 Argo Tea cafés globally, it has established a brand building marketing platform that serves over 10 million cups of tea annually fueling its innovation. Argo Tea's menu includes all natural-tea based signature drinks, over thirty varieties of loose-leaf teas, premium coffee, fresh-baked pastries, specialty foods, and a selection of tea ware and accessories.
For more information, please visit www.argotea.com and follow the brand on Facebook at https://www.facebook.com/argotea as well as Twitter and Instagram @argotea
# # #